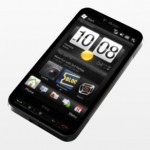 A first for Blockbuster, the HTC HD2 mobile phone from T-Mobile will provide subs with over 100,000 movies, TV shows and games from their mobile On Demand library. The HTC HD2 has a large 4.3 inch touch display and operates at 1 GHz – making it the largest and fastest touchscreen smartphone in the U.S. (according to T-Mobile).
"Available exclusively from T-Mobile, the HTC HD2 is like putting Blockbuster in your pocket," said Kevin Lewis, senior vice president of digital entertainment at Blockbuster.
At launch of the of the application (spring 2010) you'll be able to buy or rent the content. Soon, Blockbuster says you'll be able to access store inventory and update mail queues.
Blockbuster also said: "Users can buy a title on their HTC HD2 phone and watch it on a BLOCKBUSTER On Demand enabled TV set or Blu-ray disc player and even return to their HTC HD2 to finish."
ADDED:
The HTC HD2 will also feature the following:
– Paramount Pictures "Transformers" and "Transformers: Revenge of the Fallen" pre-loaded on the memory card.
– MobiTV (with free first 30 days service)
– Barnes & Noble eReader
– Gogo Inflight Internet (up to six months free in-flight internet)