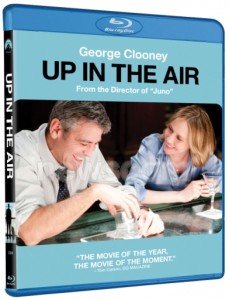 Six-time Oscar nominated film Up in the Air will release on Blu-ray Disc and DVD Mar. 9, 2010. The Parmount film was directed and co-written by Jason Reitman who has been nominated for Best Director, and stars George Clooney, Vera Farmiga and Anna Kendrick, who are also Oscar nominees.
Up in the Air has been nominated for the Academy Award for Best Motion Picture in 2010. George Clooney is nominated for Best Lead Actor and Vera Farmiga for Best Supporting Actress. Writers Jason Reitman and Sheldon Turner are nominated for Best Adapted Screenplay.
Blu-ray Disc specs include 1080p video at 1.78:1 aspect ratio, DTS-HD Master Audio 5.1. Extras include deleted scenes, storyboard, and directory commentary. See full specs below.
• Commentary by writer/director Jason Reitman, director of photography
• Eric Steelberg and first assistant director Jason Blumenfeld
• Shadowplay: Before The Story
• Deleted Scenes with Optional Commentary by Jason Reitman
• To Know Me Is To Fly With Me
•Real People Firing and Irate Employee
• Thumper and Extended Boat Scene
• Omaha Montage
• Spacesuit
•Trailers
The Blu-ray includes all of the above in high definition, plus:
• Deleted Scenes with Optional Commentary by Jason Reitman (HD)
• Do You Live At The Hilton?
• Nosey Neighbor
• Natalie In Restroom
• Natalie Vid-Chats
• Angry Ryan Checks In
• Goalquest Invite
• Maynard Finch Commercial/Kara Calls Ryan
• Barely Squeaking By/Natalie Calls
• "Help Yourself" music video by Sad Brad (HD)
• Storyboards (HD)
• American Airlines Prank (HD)
Up in the Air is available to order
from Amazon.com