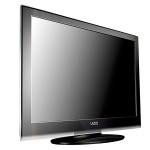 VIZIO will show off their new XVT Pro series of LCD HDTVs at CES 2010, which boast 480Hz, 3D, 16:9 and built-in wireless HDMI. The displays, expected to ship sometime this year, will be available in 72″, 55″, and 47″ sizes. MSRPs are set at $3499, $2499 and $1999 respectively. In addition to the 16:9 models, a 58″ Cinema Wide HDTV with 21 x 9 aspect ratio will also be available (no price yet).
For 3D, the XVTs will use SENSIO 3D technology, requiring the viewer to wear XpanD active-shutter glasses (sold separately) that push 1080p to each eye.
VIZIO's "Smart Dimming" technology will be integrated in each model. The circuitry controls the zones of LEDs per frame for more accurate light levels. (The zones vary from 480, 120 to 160 depending on size.)
The built-in Wireless will require a separate adapter, which supports up to 4 HDMI sources. The adapter will run at 60GHz to avoid frequency interference with cordless phones and wireless networks. Wireless will utilize second-generation chips from SiBeam which use half the power of the first generation chips. You can get more details on the 60GHz chips from this EE Times article.
Additional features are VIZIO apps which let you access the internet, on-demand content, and other network-based content. For audio the VIZIO XVT Pro HDTVs will feature SRS StudioSound HD.