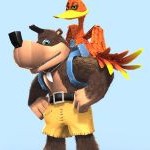 The 2008 installment of Rare's platforming adventure game, Banjo Kazooie: Nuts & Bolts, is now available through Xbox Live's On Demand service. This service – for those who have yet to use it – allows Xbox Live members to download and own their favorite games without the necessary shelf space required for a boxed copy.
If you are one of the many who passed on this colorful, humorous combination of vehicle building and adventure platforming, now is your chance to own it for only $19.99.
Banjo Kazooie: Nuts & Bolts will take up 6 GB when downloaded to your Xbox 360's hard drive. The game has been rated E10+ by the ESRB.