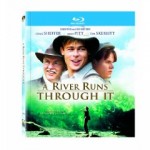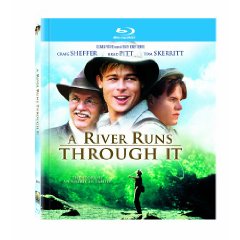 A true favorite of mine arrived on Blu-ray over the summer, and I recently took some time away from my own fly fishing excursions to sit down with Robert Redford's meditative masterpiece, A River Runs Through It.
While not entirely plotless as some would say, the film is more about mood: a sense of place and time, and what that means to the characters, played memorably by Tom Skerrit as the stoic father and Presbyterian minister, with a young Brad Pitt and Craig Sheffer as his sons. Taking divergent paths in life, they learn the importance of brotherhood and family while sharing in their father's love of fly fishing.
Without much action to anchor Norman Maclean's autobiographical tale, Redford relies on his young actors to engage us emotionally, while letting the early 20th century scenery do the rest. The film won an Academy Award for Best Cinematography (DP: Philippe Rousselot) and is considered to have launched a wave of fly-fishing enthusiasts (like me) over the last few decades, no small accomplishment there. Still, in essence, the film is about family, and the memories of an older man (Arnold Richardson) looking back on his life as a journalist, a brother to a rebellious son, and son to a spiritual father who yearns to hear God talk through the natural world. Though the film portrays a pre-war nation as well as its growth through the Great War and Depression eras, the images are generally tack sharp, yet still manage to evoke a hazy quality that in the mind's eye becomes almost sepia-tinged (the title sequence plays on this). And then, there's the river…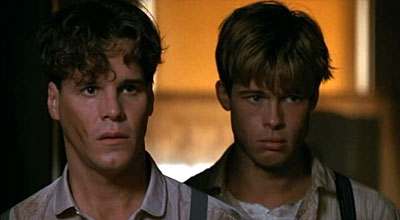 Though the film was actually shot on other rivers in Montana, Wyoming and elsewhere due to the heavy pollution, the Blackfoot River of the short story looms as large in Redford's film as it does for Maclean's readers. The scenes of the actual fly fishing aren't as numerous as you'd think for a film that's viewed as the sport's most fabled story, but those scenes, when they do come up, are the truly unforgettable moments of the film, showcasing both the poetry of movement in casting out a fly line as well as the near-Zen aspects of waiting for a trout to tighten the line and jump, flyhook in mouth, above the waterline. Those scenes are well thought out and expertly filmed, and you get a real sense of why the Reverend Maclean find spiritual solace and confirmation of God's natural design in the activity. The rituals of the sport also present a way for his sons to express themselves as they come of age… one holding true to his father's training, the other taking that training to a higher level that transcends the lessons of the father. The metaphors are writ large upon the Blackfoot River, and Redford never shirks from those moments, engaging them fully and making the viewer understand the mythic pull of the flowing river and its effects on the character's lives.
As those boys (featuring a young Joseph Gordon-Levitt) grow to men, it becomes apparent that one will remain close to family and his father's teachings, while the other will approach life in a more hellbent manner, living life largely for amorous pleasures. Their final summer together as grown men takes up the bulk of the second half of the film… with a turning point in their lives that reveals a tragedy that will change them, as well as their father's hopes and dreams, forever.
Having seen the DVD version more than a few times, and having caught the film via streaming media as well, it's safe to say that the Blu-ray version makes those efforts look plain, even somewhat ugly for a film highlighting the natural beauty of Montana and the Blackfoot River. The Blu-ray reveals an enormous level of detail that I'd never noticed on the DVD version. The 2005 deluxe edition of the DVD, though itself a good transfer, hardly reveals as much detail in close and medium-shots, and showed far more video artifacting as well as dust/scratches. The Blu-ray's AVC MPEG-4 1080p transfer shows fine grain with crisp, saturated color and solid black levels throughout. The detail in close-up shots is exceptional. As an example, the train station sequences filmed in daylight capture the weave of clothing without any distracting Moiré pattern effect; individual strands of hair, natural skin tones, even the fly-lines during the fishing scenes all are highly detailed with a level of contrast that does not blow the image out. As this is an older film, some of the darker scenes have softer edges and a little less detail, but there is no obvious edge enhancement. The transfer certainly does Rousselot's excellent framing and composition justice, as well as capturing perfectly his naturalistic lighting choices. The shots of the moving river stand out, and are well preserved in high-definition with no motion blur evident… the effect is very crisp and realistic. In the film's showcase fly fishing sequence, following Brad Pitt as he's dragged down the river offers a fantastic you-are-there quality that's thrilling (for such a staid movie, at any rate).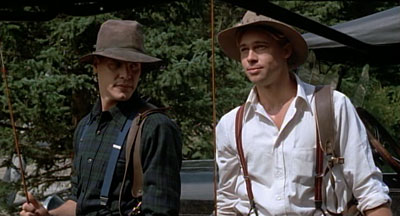 Blu-ray audio is offered as a Dolby AC-3/TrueHD 5.1 lossless mix that puts the original Dolby stereo track on different speaker channels to achieve a surround-like effect. The back channels are used sparingly, without much on the bass/low-frequency end to overwhelm dialogue or the sounds of nature. The rushing river (and dynamic waterfall sequence) get the best effect from the mix, while the rest of the audio is a nice balance between the dialogue (center-channel dominant) and Mark Isham's Celtic-tinged, elegiac score (interestingly, Elmer Bernstein's original score was rejected by Redford). The front and rear channels do offer some nice ambiance during crowd scenes and the brief newsroom scenes, but the most pleasant audio effect of the surround channels is reserved for the river itself… always feeling directional from front and sides to the rear speakers, as if it's actually flowing all around during those wonderfully pastoral (but all too short) fly fishing scenes.
The Dolby TrueHD 5.1 mix is also offered for French and Spanish languages, but there's also a standard DD 5.1 track in French, Spanish and Portuguese. Subtitles are offered in SDH-English, French, Spanish and Portuguese.
The initial DVD release was nearly without supplemental material, though the Deluxe Edition DVD included a 32-page booklet (also included in the Blu-ray version). However, even the deluxe disc offered very little in the way of additional features such as director commentaries or EPK's (at the very least)… just terrible unless you enjoy nothing but trailers and talent bios tied to this particular title. The Blu-ray fully remedies this neglect for A River Runs Through It and offers not only professionally done featurettes that offer background on bringing Maclean's short story to the screen (the production hurdles, casting and filming are all discussed) but also some cool short documentaries and screensavers. No crappy little EPK's here… this is serious stuff and each feature is presented in hi-def at that.
Deep Currents: The Making of a River Runs Through It: A nicely done, yet concise, making-of featurette with book-to-script, script-to-screen and production stories from Robert Redford, actor Craig Sheffer (what?! no Brad Pitt?), Maclean's daughter and son-in-law, as well as cinematographer Rousselot and other cast/crew members. It's a well thought out, comfortably designed look into Redford's vision. and his regard for Maclean's short story and narrative voice. The lack of director or other commentaries on the film are made up for in this featurette.
The Blackfoot Challenge: Rescuing a River: Maclean's story and the subsequent film hold a special place in the hearts of freshwater anglers and naturalists, but back when the movie was being shot, the crew was aghast to discover that the main river of the book, the Blackfoot River of Maclean's childhood, was polluted beyond use due to heavy mining, logging and livestock grazing. The river held neither the pristine beauty described in the book, nor its fabled trout, which were dying off in the polluted waters. While this situation led to filming on other rivers in Montana and elsewhere, it also led to the development of the Blackfoot Challenge to resuscitate the river along with groups such as Trout Unlimited who were crucial to helping bring the river back to life and making it not only recreational, but also a crucial Montana wetland and waterway. This short documentary showcases those developments and the movement to clean up the Blackfoot river. If anything, the doc might inspire you, the viewer, to join conservation efforts in reclaiming the Blackfoot river's clean and natural flow.
Casting a Line: A Beginner's Guide to Fly Fishing: A very short look at some fly-fishing history and basics including line-tying, casting and reading a river. Pretty cool, but all too brief (then again, people seem to remember more fly-fishing sequences in Redford's film than actually are presented). If you love fly-fishing, this is cursory material, but if you're just thinking about getting started, this isn't a bad way to inspire advanced curiosity about the sport.
Deleted Scenes: More than a few deleted scenes are presented here (some are extended scenes). Quality varies as these seem to be literally off the cutting-room floor, but mostly these are omitted moments that made sense to leave out of the theatrical release.
On the Blackfoot River: Probably my favorite extra of the whole bunch. In full Hi-Def, these four screensavers (Rocky Mountain river, Big Sky Country river, Forest Bend river, Rushing River) offer gloriously filmed scenic beauty. The camera placement has you either smack dab in the middle of the river or close enough to it to give you a sense of actually being there. The level of detail is just amazing whether on a fast moving or meandering river and, after about 10 minutes, these screensavers loop to the beginning of playback for an endlessly pastoral landscape presentation. These are extremely pleasant HD environments with full HD audio. There's toggle for music playback (music from the motion picture), but I preferred to play these gorgeous vistas with just the natural soundtrack… nothing like the sound of a river running through the living room.
BD-Live content: Not much here other than to showcase other Sony Blu-ray titles. Nothing really specific to A River Runs Through It. Sony (and other studios) really needs to get serious about BD-Live's value-added potential.
This BD release was done in the "Digibook" format similar to some Warner's titles. Sony, in this instance, features A River Runs Through It in a hard book-like BD case that has an attached 32-page booklet featuring an overview of the film, PR material, actor bios and some trivial tidbits. It's a very nice package, and we'll probably see a few more of these from Sony (Midnight Express is their other recent effort), Warners and other studios hoping to re-issue their back catalog films in the hi-def format. All-in-all this is a superior effort when compared to past home video releases of A River Runs Through It, with a significant increase in extras sure to please old fans and new fans alike. One viewing of Redford's film and you'll be haunted by waters, too.
A River Runs Through It
| List Price:
$38.96
| Current Price: $24.99 –
Order Now