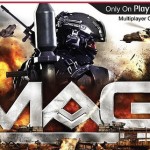 Zipper Interactive, the developer of the upcoming title MAG for the Playstation 3, has announced an open beta for the shooter starting January 4th. To celebrate MAG achieving gold status and being on schedule for its January 26th launch in North American and Asia, January 28 launch in Japan, and January 29 release in Korea, players worldwide will be able to participate in a free open beta for the game.
Taking a page out of Steam's book, Zipper Interactive will allow North American players to download the MAG beta client early on December 22nd to avoid wasting prime shooting time by transferring the 1.8 to 2.3 GB file at launch. Gamers in Asia will get the same option starting on December 25th. Unfortunately, Europeon gamers will have to wait until the beta's launch to download the game.
The beta will include complete access to MAG's 64-player sabotage and 256-player Domination modes and run until January 10 at 11:59 pm Pacific, leaving players over sixteen days to wait for the retail release and a continuation of the action.
The US Playstation Blog has some steps for users who want to participate in the beta:
Log on to the PlayStation Store (tomorrow) and download the MAG Beta file like you would any other freely-available PSN video or demo (298 MB)
Launch the MAG Beta program from your XMB to download a special patch that will restart MAG once the update has been received (another 38 MB)
After the reboot, the beta will reconnect and download the actual game data so that you can play (1.8 GB – 2.3 GB depending on your region)