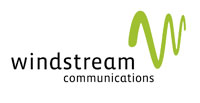 Windstream is now offering DISH Network's Remote Access service which allows users to access their DVR remotely wherever broadband service is available. The DISH service gives subscribers the ability to find, prioritize and record television programs as if they were at home.
To utilize the service customers must have a DISH Network ViP Series DVR receiver which is connected to Windstream broadband service.
Windstream customers who have their DVR connected to broadband can also access additional on demand content.
Windstream Corporation provides high-speed Internet, digital phone and high-definition video and entertainment services to residential and business customers in 16 states.