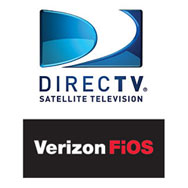 Last week, a study from Pike & Fischer revealed Verizon offers only one HD channel less than long-time high-definition channel leader DirecTV. The report, entitled "HDTV Service Comparison," found DirecTV offers as many as 104 HD channels, with Verizon's FiOS TV service close behind offering as many as 103.
Cable providers are a different story. Because of bandwidth limitations most cable companies are not able to provide as many HD channels as satellite and fiber-optic providers. However, cable companies like Time Warner Cable and Cablevision offer another incentive in that they provide some HD channels free-of-charge.
But should HD be measured by quantity or quality? As far as quality goes, both DirecTV and Verizon offer superb high-definition quality broadcasts. In our own random survey, we found users preferred DirecTV's HD quality over all other providers, followed by Verizon's fiber-optic FiOS service.
DirecTV's competitor Dish Network should also be mentioned for its HD quality. Although the company has been trailing in HD channel numbers due in part to the failed launch of a satellite at the beginning of last year, DISH was the first to offer 1080p broadcasts.
When deciding which HD provider to go with, you may want to do your own research before selecting. DirecTV and Verizon do offer the most HD channels, but Verizon is not available in as many areas as DirecTV. Also, it shouldn't be long before Dish Network catches up with the leaders, as the company recently successfully launched a satellite to provide more HD channels. On the fiber optic side, AT&T's U-verse may be the other option if Verizon is not available in your area.