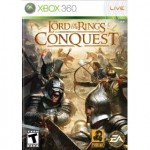 Unfortunately for gamers, the next few weeks are going to feel rather dry as far as new game releases. This news may come as a relief, however, as it is on the heels of one of the most flood-like few months of games that we've seen in this console generation. Here are this week's releases from Xbox 360, Wii and PlayStation 3:
Xbox 360 and PS3
The Xbox 360 and the PlayStation 3 share a common release this week. Lord of the Rings: Conquest ships for both systems on Tuesday, January 13th.
Lord of the Rings: Conquest
is a fast paced action game that puts its players on the frontlines of their favorite LOTR battles. Players can choose to play as heroes or villains as they brawl against armies of up to 150 characters. The game offers the option of playing with 4 friends cooperatively or with 16 others in competitive online multi-player. Fans of the Star Wars: Battlefront series will feel right at home playing this one. Lord of the Rings: Conquest is rated T for Teen by the ESRB
Wii
This week Wii offers Deal or No Deal — released on Tuesday, January 13th.
Deal or No Deal
shares its game play with that of its TV show predecessor. Players are given 26 briefcases to choose between. They must narrow the cases down one by one and hopefully walk away with big money. Deal or No Deal has not yet been rated by the ESRB.
Check back next week for more new releases from the "Big Three."