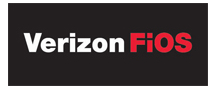 Verizon has reached 100 HD channels with FiOS TV. The high-definition channels are now offered in every market where FiOS TV is available. The company says its fiber-optic service delivers less pixelation than competitors, and does not add any additional compression to HD content.
Shawn Strickland, vice president of FiOS products for Verizon said, "The immense capacity and superior quality of our advanced all-fiber-optic network give customers the best HD experience with more channels, pure HD picture-and-sound quality, and interactive features old-fashioned cable only dreams of."
Verizon says it has more than 1.6 million customers who subscribe to their FiOS service.