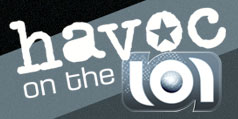 Havoc network is now available in HD on DirecTV's channel 101. The network airs an interactive jukebox which viewers can interact with by texting messages that appear on screen. Havoc's programming currently consists of videos focused on indie music and action sports.
The network's current programs include Havoc Alternative (alternative music videos from the 70s, 80s, 90s and 2000s), Havoc Vinyl (underground hip hop, electronic and reggae music videos), Havoc Mixtape (a grab-bag of the best music videos from all of Havoc's genres), and Havoc Sports (featuring skateboarding, surfing, snowboarding and motocross).
Havoc has been a VOD option on cable networks since launching in 2004. The network intends to upgrade its VOD library to high-definition, as well as include live music in HD on the DirecTV channel next year.