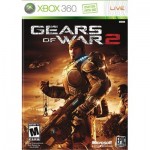 Playstation 3 and Xbox 360 race to sell the most units this holiday season.
There are all kinds of deals happening this Black Friday
, and among them a war wages between Sony and Microsoft to see who can sell the most Playstation 3 or Xbox 360 consoles. Let's take a look at two deals that are getting some media coverage.
Sony is offering $150 off a Playstation 3 console if you sign up for a Playstation credit card. In addition, if you get instant approval for the card you will also get a coupon for a buy one, get one free Blu-ray Disc purchase.
You can apply for the instant approval at www.sony.com/newpscard, however some say with the economy as it is easy credit may be harder to come by. If you do get approved, you can go directly to the Sony Rewards site and purchase the PS3.
Target is hoping to give Xbox 360 sales a boost by offering a $60 gift card during the store's after-Thanksgiving sale on Friday and Saturday. Hey, that's enough to buy "Gears of War 2" minus the tax!
Microsoft enjoyed top sales in October after they dropped the price of the entry level Xbox 360 Arcade from $279 to $199. Other Xbox models also dropped in price, and gaming bundles helped boost sales. Sony is hoping to level the playing field with their $150 discount offer.