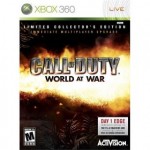 One of my favorite games of all time, Call of Duty has released the fifth installment in its series — Call of Duty: World at War. "World at War" has co-op gameplay with up to two players split screen or four players online, which is a first for the franchise. "World at War" was developed by Treyarch and published by Activision for all game formats including Windows, PlayStation 3, Wii, Xbox 360, Nintendo DS, and PlayStation 2.
The story in Call of Duty: World at War focuses on the final WWII battles in the Pacific and Eastern parts of Europe. The battles are based on actual historical battles including the Makin Island raid, the Battle of Peleliu, and the Battle of Berlin.
"World at War" was two years in the making and features a more mature theme than previous installments. Swimming is introduced as well as flamethrowers (originally brought into play in Call of Duty: United Offensive) which will affect flammable environments.