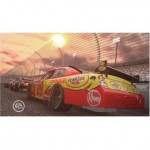 NASCAR 09 was released yesterday for both the Playstation 3 and Xbox 360. The high definition game from Electronic Arts features Jeff Gordon as your guide, offering advice for the challenges that you will face in the new career mode or in the Sprint Driver Challenges.
The game puts you in three authentic races, the NASCAR Sprint Cup race, the NASCAR Nationwide Series, and the NASCAR Craftsman Truck Series. NASCAR 09 allows two driving models, one for more basic/beginner play and the "Pro" model for more advanced life-like driving.
Amazon currently sells both the PS3 and Xbox 360 versions of the game for $59.99.