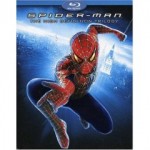 Amazon is having a buy two get one free sale on selected Blu-ray Discs. There don't seem to be any new release titles, the most recent being from 2007. Some titles include "Spider-Man 3" (2007), "Surf's Up" (2007), "Hostel – Part II" (2007), "Premonition" (2007), and "The Company" (2007).
All-in-all it appears there are 95 Blu-ray discs to choose from, and all of them marked down from their original retail price. Some sci-fi/action titles worth mentioning are "Tears of the Sun" (2007), "Curse of the Golden Flower" (2007), "Casino Royale" (2007), and "Hellboy" (2004).
On the comedy side you've got to pick up "Superbad – 2-Disc Unrated Extended Edition" (2007). For the family BD library add "Surf's Up" (2007), "50 First Dates" (2004), and "RV" (2006).
The sale is scheduled from June 10 – 16.