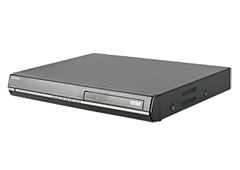 With Amazon and other retailers blowing out prices on HD DVD players and movies, the question is "Should I buy into this dead technology or just save up for a Blu-ray Disc player?" This is a question that you have to answer yourself, but the point of this article is to give you some pros and cons.
First let's start with the cons. If you put your money into a bunch of HD DVD movies now, and in a few years your HD DVD player dies, where are you going to find a player? Ebay? You may end up with a library full of HD DVD discs that you can use as coasters. But why buy something when you know it will be obsolete?
The first pro is, of course, that HD DVD equipment and movies are dirt cheap right now. Amazon has the Toshiba HD-A30 1080p player for as low as $129. This player was originally priced at $399. As for movies, Amazon also has the Complete Matrix Trilogy on sale for under $45. Planet Earth, a must have for any high def collection, is on sale for $54.95.
The biggest "pro" would be to pick up one of the HD DVD players just for the reason that the upscaling technology in these players is fantastic. "Upscaling", also known as "up-converting", is the process by which the resolution of a standard definition DVD is scaled up to look better on an HDTV. For this reason alone, I suggest picking up a reasonably priced HD DVD player until the price of Blu-ray Disc players goes down. At least you will be able to watch your existing DVD collection in decent resolution.
Is buying HD DVD products a short term solution? Yes. However, consider that before you know it, digital movies will be taking over the market in the same way digital music has escorted out CDs. The movie disc market will eventually phase out as well…maybe even before Blu-ray Disc enjoys the same market saturation as ol' DVD.