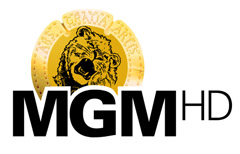 Metro-Goldwyn-Mayer Studios Inc. (MGM) has secured carriage for its MGM HD Channel on Verizon's FiOS TV service, bringing feature film hits from the MGM library to Verizon FiOS TV subscriber households in full high definition splendor. The announcement was made today by Douglas A. Lee, Executive Vice President of Worldwide Digital Media for Metro-Goldwyn-Mayer Studios and Jim Packer, Co-President, MGM Worldwide Television."The response to the MGM HD Channel, even in today's crowded and
challenging marketplace, has been very encouraging, especially as consumers
validate our belief that HDTV owners value movies along with sports as HD's
greatest viewing proposition," said Lee in announcing the Verizon FiOS TV
agreement. "We are one of the only services available 24/7 in full 1080i
HD."
MGM HD will be rolled out in late 2008 across all of the Verizon FiOS
TV systems including California, Delaware, Florida, Indiana, Maryland,
Massachusetts, New Jersey, New York, Oregon, Pennsylvania, Rhode Island,
Texas and Virginia.
Press Release