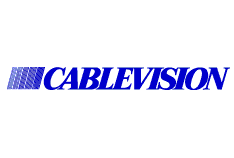 Cablevision Systems and CNN Worldwide announced the addition of CNN HD to Cablevision's high-definition programming line-up. This makes it the 42nd high-definition channel available to Cablevision's 800,000 io digital cable customers with HD televisions. The network, found on channel 725, is available at no additional charge to HDTV customers.
"We are pleased to add CNN HD to our high-definition line-up, which has nearly doubled in size over the last year," said John Trierweiler, Cablevision's senior vice president of product management. "More and better HD programming, without the extra fees our competitors charge customers to see HD, is a defining element of our iO TV digital cable service, and our robust fiber optic network allows Cablevision to offer this expanding array of high- definition programming to our more than 800,000 HD customers."
Cablevision Systems Corporation serves more than 3 million households in the New York metropolitan area. In addition to its telecommunications and programming
businesses, Cablevision owns Madison Square Garden and its sports teams,
the New York Knicks, Rangers and Liberty. The company also operates New
York's famed Radio City Music Hall, and owns and operates Clearview Cinemas.