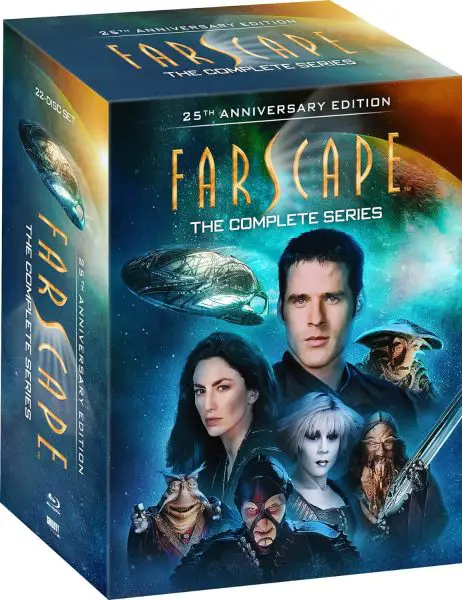 Farscape: The Complete Series is releasing in a 25th Anniversary Blu-ray edition on November 21, 2023. The 22-disc set from Shout! Factory has a total run time of 67 hours and 30 minutes, and includes all 88 episodes from the four seasons that aired from 1999 to 2003.
Farscape: The Complete Series 25th Anniversary has an MSRP of $219.98, currently priced $149.98 on Amazon.
Synopsis: John Crichton. Astronaut. Flung through a wormhole and lost in a galaxy far from home. He finds himself in the middle of a prison break, surrounded by hostile aliens, soaring through space inside a glorious living spaceship called Moya. Hunted by the relentless Peacekeepers, he allies himself with his unimaginably alien fellow refugees and searches for a way home.
So begins the epic sci-fi classic Farscape. A fusion of live action, state-of-the-art puppetry, prosthetics and CGI, Farscape features mind-boggling alien life forms, dazzling special effects, edge-of-your-seat thrills, irreverent humor and unforgettable characters all brought to life by the creative minds at Jim Henson's Creature Shop.