Adult Swim's Rick and Morty: Seasons 1-6 is releasing on Blu-ray in a 6-disc edition from Warner Bros. Home Entertainment on September 12, 2023.
On Blu-ray, episodes of Rick and Morty are presented in 1080p High Definition. Audio is provided in DTS-HD Master Audio 5.1 (Seasons 5 & 6) and Dolby TrueHD (Seasons 1-4). French audio is offered in Dolby Digital (Seasons 5 & 6). Subtitles are provided in English SDH and French (Seasons 5 & 6).
Special Features:
Commentaries
Animatics
Deleted Scenes
Deleted Animatic Scenes
Behind-the-Scenes Featurettes
Inside the Episodes
Directing Rick and Morty
Animation Challenges
and more
Rick and Morty: Seasons 1-6 on Blu-ray is priced $89.99 (List: $129.99) on Amazon.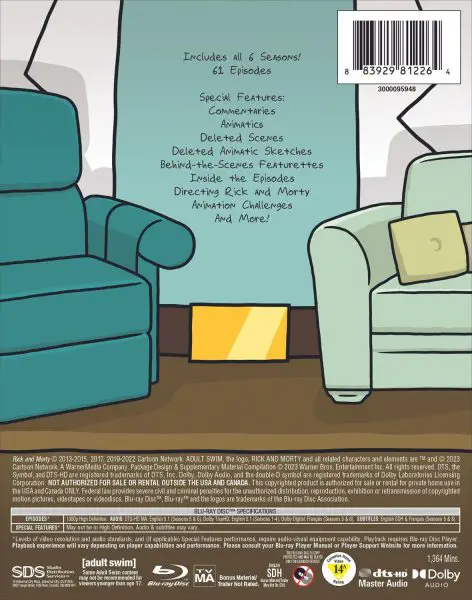 Description: Rick and Morty is the critically acclaimed, half-hour animated hit comedy series on Adult Swim that follows a sociopathic genius scientist who drags his inherently timid grandson on insanely dangerous adventures across the universe. Rick Sanchez is living with his daughter Beth's family and constantly bringing her, his son-in-law Jerry, granddaughter Summer, and grandson Morty into intergalactic escapades. Rick and Morty stars Justin Roiland (Adventure Time), Sarah Chalke (Scrubs), Chris Parnell (Saturday Night Live), and Spencer Grammer (Greek). The series is created by Dan Harmon (Community) and Roiland who also serve as executive producers