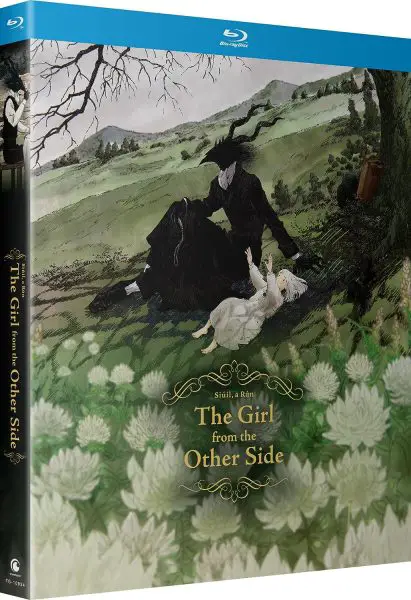 Director Yutaro Kubo's The Girl from the Other Side (2022) is releasing on Blu-ray Disc from Crunchyroll. The single-disc edition arrives on Sept. 5, 2023, and includes 3 OVA (original video animations) for a total run time of 90 minutes.
On 1080p Blu-ray, The Girl from the Other Side is presented in 1080p at 16×9 aspect ratio. The soundtrack is offered in native Japanese Dolby TrueHD 2.0 and English dubbed 5.1. Subtitles are provided in English and French.
The Girl from the Other Side on Blu-ray Disc is priced $22.99 (List: $29.99) on Amazon.
Description: Little Shiva has nowhere to go until she's taken in by a mysterious being who calls himself "Teacher." The curse of the Outsiders will spread by the slightest touch, yet the two grow closer every day as they search for the people they once knew.
Synopsis: In a world split between the Inside and the Outside, those living in both realms are told never to cross over to the other side, lest they be cursed. A young girl named Shiva lives on the other side, in a vacant village with a demonic guardian known only as "Teacher." Although the two are forbidden to touch, they seem to share a bond that transcends their disparate appearances. But when Shiva leaves Teacher's care to seek out her grandmother, the secret behind her mysterious living arrangement comes to light.