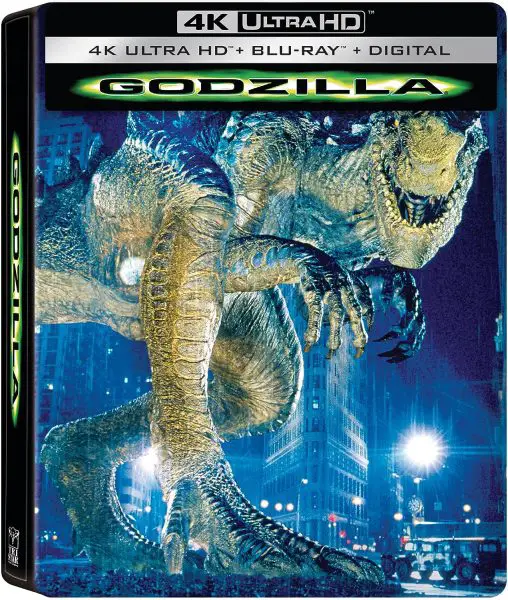 Sony Pictures Home Entertainment will celebrate the 25th Anniversary of Godzilla (1998) in a new Limited Edition 4k Blu-ray SteelBook edition on October 24, 2023. The edition includes copies of the film on 4k Blu-ray, Blu-ray, and Digital 4k UHD via a redeemable code.
This remastered version of Godzilla (1998) from the original 35mm negatives (previously released in 4k in 2019) now features Dolby Vision and HDR+ (to be confirmed) in the 4k 2160p presentation. The previous 4k Blu-ray featured HDR10.
The audio presentation of Godzilla also features Dolby Atmos immersive sound, a huge improvement over previous Blu-ray releases that offered DTS-HD Master Audio 5.1.
Bonus Materials on the included Blu-ray include Visual Effects Commentary, Behind the Scenes of Godzilla with Charles Caiman, All-Time Best-of Godzilla Fight Scenes, and the music video "Heroes" by The Wallflowers.
Godzilla (1998) on 4k Blu-ray is available to order on Amazon for $30.99 (List: $45.99). 
Synopsis: Leaving a trail of capsized ships and demolished cities, a monstrous reptile known as Godzilla makes his way towards New York City. Seemingly impervious to traditional weaponry, Godzilla will destroy Manhattan unless scientist Dr. Nick Tatopolous and mysterious French insurance investigator Philippe Roache discover how to stop the monster's rampage. GODZILLA is directed by Roland Emerich and written by Dean Devlin, the team behind INDEPENDENCE DAY.