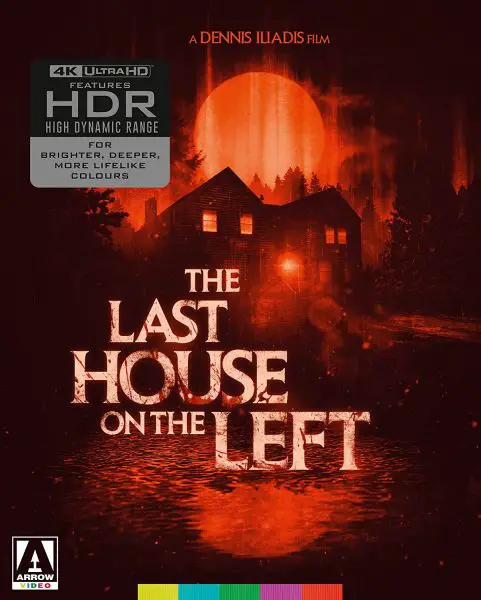 The Last House on the Left (2009) has been remastered and is releasing on 4k Blu-ray Disc (Sept. 12, 2023) and a new Blu-ray edition (August 29, 2023).
The 2-disc UHD BD edition from Arrow Video includes the original Theatrical Version on 4k Blu-ray and the Unrated Version on 2k Blu-ray.
The 2-disc BD edition packages the Theatrical Version on one Blu-ray and the Unrated Version on the other.
The soundtrack is provided in the original uncompressed stereo audio and DTS-HD Master Audio 5.1 surround sound. Subtitles are offered in English SDH.
The Last House on the Left (2009) on 4k Blu-ray has an MSRP of $49.95 and 2k Blu-ray $39.95. Buy on Amazon
Special Features and Technical Specs:
Two versions of the film: the original Theatrical Version (4K Blu-ray) and the Unrated Version (Blu-ray)
Original uncompressed stereo audio and DTS-HD MA 5.1 surround audio for both films
Optional English subtitles for the deaf and hard of hearing on both films
Illustrated collector's booklet featuring new writing on the film by Zoë Rose Smith
Reversible sleeve featuring original and newly commissioned artwork by Eric Adrian Lee
DISC ONE – 4K BLU-RAY: THEATRICAL VERSION
4K (2160p) Ultra HD Blu-ray presentation in Dolby Vision (HDR10 compatible) of the original Theatrical Version of the film
Exclusive new filmed introduction by director Dennis Iliadis
Brand new audio commentary by David Flint and Adrian Smith
A River of Blood, a new 31-minute interview with Sara Paxton
The Notorious Krug, a new 27-minute interview with actor Garret Dillahunt
Suspending Disbelief, a new 18-minute interview with screenwriter Carl Ellsworth
Reviving the Legend, a new 33-minute interview with producer Jonathan Craven
Look Inside Featurette, from the films original 2009 release
Deleted scenes
Theatrical trailer
Image gallery
DISC TWO – BLU-RAY: UNRATED VERSION
High Definition presentation of the Unrated Version
Description
The Last House on the Left is a vicious and efficient updating of the 1972 controversial graphic shocker of the same name, produced by its original director/producer pairing of Wes Craven and Sean Cunningham.
When athletic teen Mari Collingwood (Sara Paxton) opts to hang out with her friend Paige in town rather than spend an evening in with her parents vacationing at the family's remote lake house, it marks the beginning of a night no one is going to forget. The two girls wind up in the company of escaped convict Krug (Garret Dillahunt) and his makeshift family of vile career criminals, who kidnap and brutally assault them before leaving them for dead. Fleeing from the scene of their violent crime during a storm, the thugs inadvertently seek refuge with Mari's parents, anxious as to why their daughter hasn't come home yet and primed to unleash the full forces of hell on anyone who would dare to touch so much as a hair on her head.
Energetically directed by Dennis Iliadis from a new script by Carl Ellsworth (Red Eye, Disturbia), this remake of horror cinema's seminal tale of bloody revenge has been described by Stephen King as "the best horror movie of the new century".
Update: The release date for the 4k Blu-ray edition was pushed back until Sept. 12, 2023. Original article publish date June. 8, 2023.