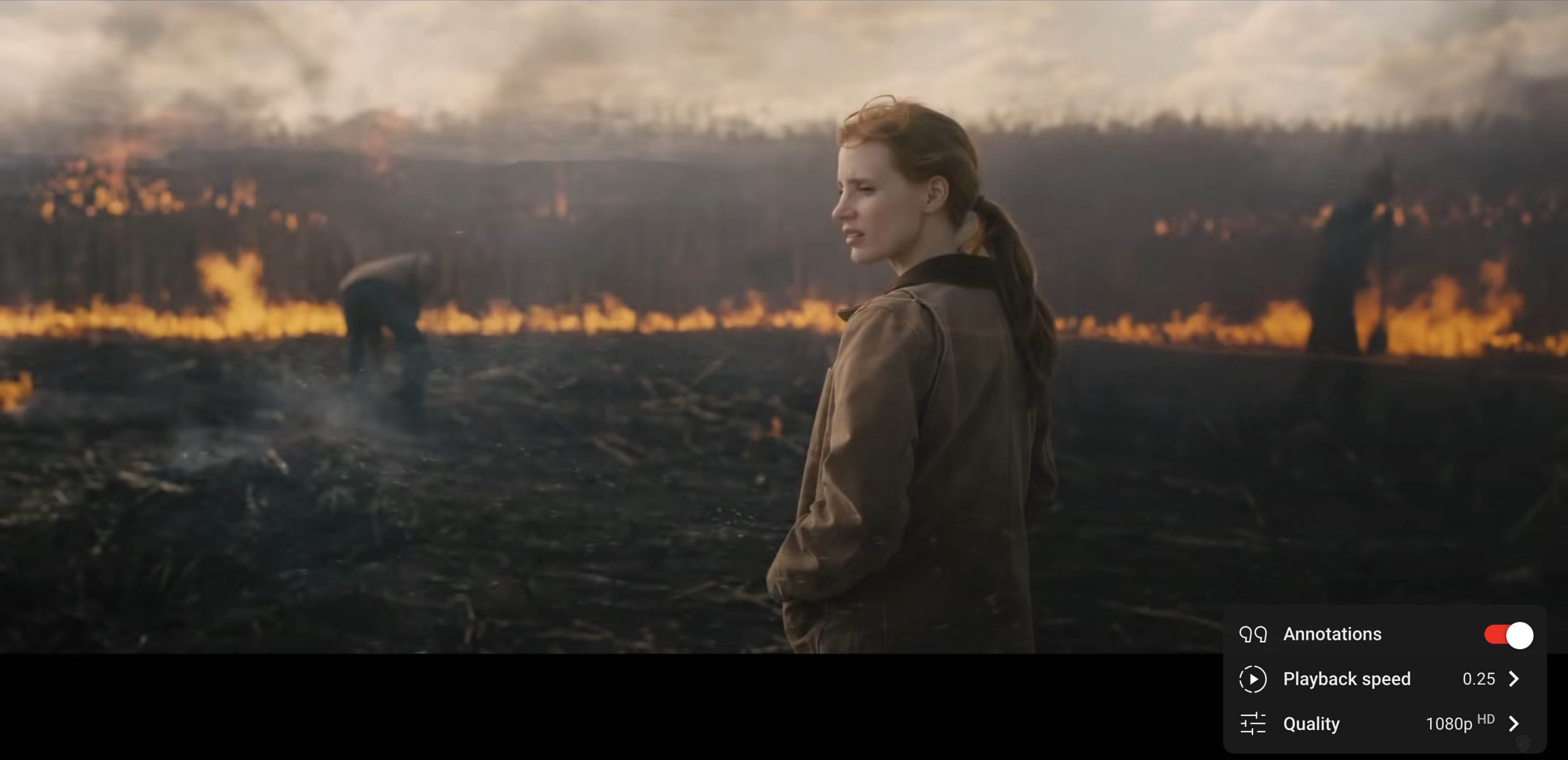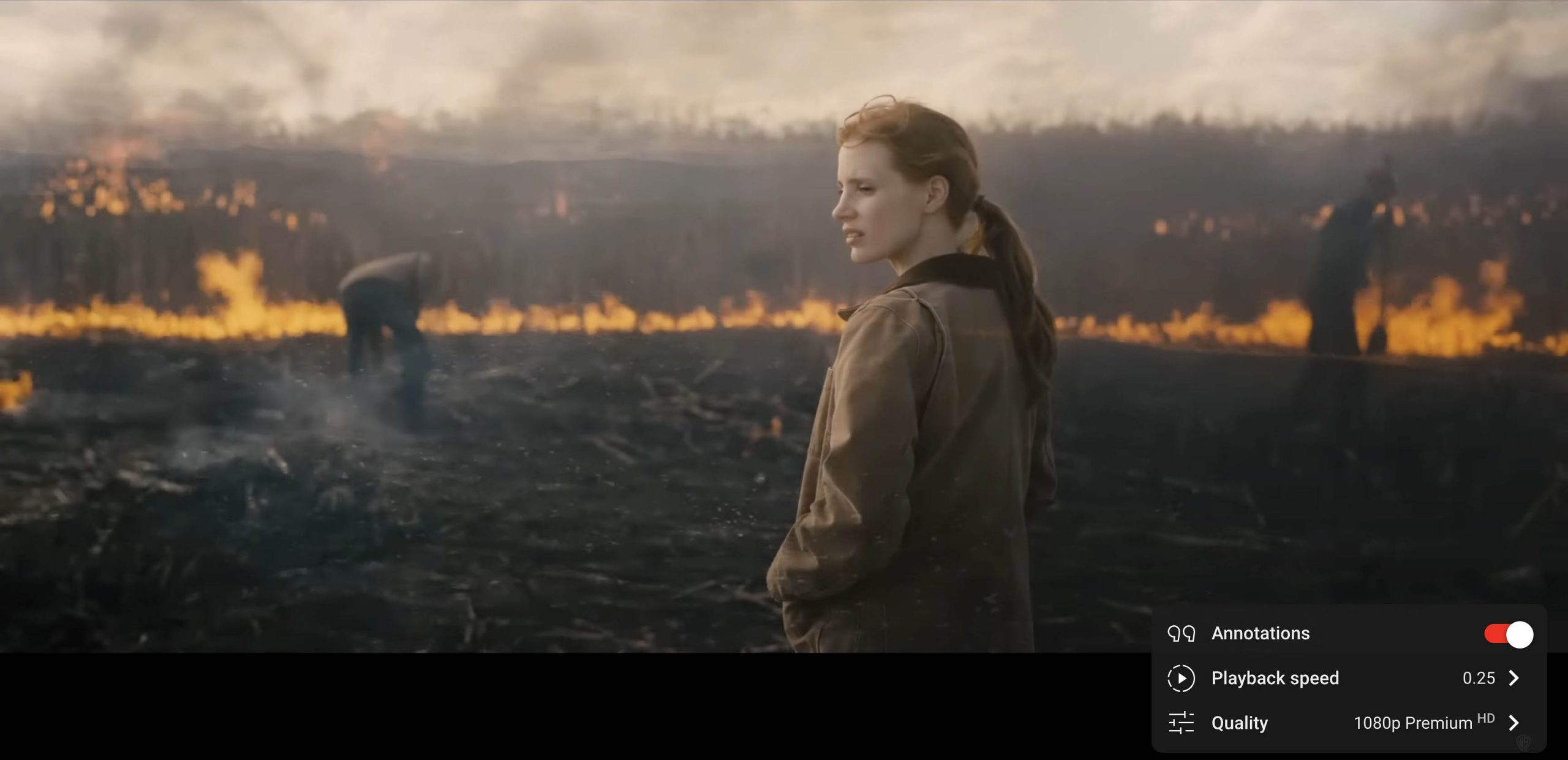 YouTube recently added Enhanced Bitrate for Premium members subscribers (now $13.99 per month). The new streaming option was available for several months in beta mode, but has been rolling out to YouTube users this month. Whether you are a Premium subscriber or not, you'll find the option when clicking or tapping on the "gear" icon in the YouTube interface.
Enhanced Bitrate adds more detail through bit depth. That means, theoretically, more color detail and contrast ratio in the video stream. We took a look at the trailer for Christopher Nolan's Interstellar (2014) which added some brightness, detail in the shadow areas, and created an overall slightly brighter (albeit flatter) image. In the image below of Matthew McConaughey, you can see more detail in his jacket collar with Enhanced Bitrate.
Some may find the enhanced video not as aesthetically pleasing as the "normal" HD video, and rightfully so. The standard HD video has a bit more punch with deeper black levels. The Enhanced Bitrate tends to flatten the image a bit, but also adds detail, as illustrated in the image above of Jessica Chastain whose face looks sharper with the improved bitrate.
The Premium Enhanced Bitrate option isn't available for all videos though. In fact, we found very view HD videos to offer the option. For example, the Interstellar trailer from Warner Bros. had the option, but other Christoper Nolan movies did not, and newer trailers like Transformers: Rise of the Beasts and Dune: Part 2 don't have it either (although the Dune: Part Two trailer is offered in 4k 2160p).
Which is something we should mention. The Enhanced Bitrate is not better video resolution. It means deeper bitrates. Bitrates determine the amount of data in a data stream. We do a lot of testing on streaming movies and shows to determine the best bitrates (see this journal of streaming bitrates for Apple+, Disney+, Netflix, etc.).
Of course, a higher resolution like 4k Ultra HD certainly needs to deliver more data given the size of the resolution. 4k (2160p) video renders 3 to 4 times the amount of bitrates than HD (1080p). But the Enhanced Bitrate offers more bits within the given resolution of HD (1080p). We have not seen Premium Enhanced Bitrate on any 4k videos yet, although it could be on the way.
It's also worth mentioning that Enhanced Bitrate is not an improved frame rate. That's a whole different animal. However, in any given frame rate a higher bitrate can add more detail to each frame, therefore rendering higher-quality image streams.
Is a Premium subscription worth the Enhanced Bitrate option? For now, we say no. The Premium's best features make videos ad-free and downloadable, well worth the $13.99 per month.
Interstellar Enhanced Bitrate vs. Normal HD (Example 2)