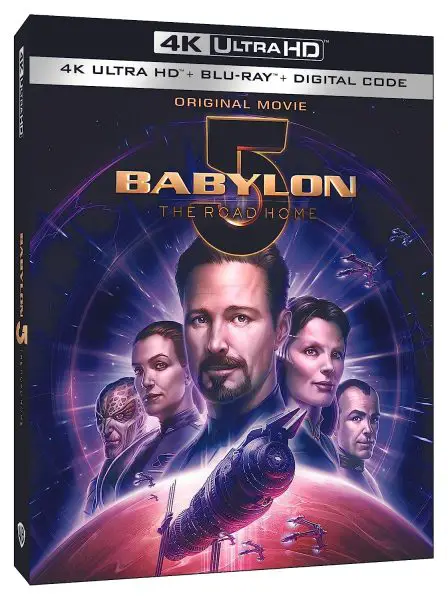 Babylon 5: The Road Home is the second direct-to-video film in the franchise and the seventh overall. The animated feature from Warner Bros. Animation will release on August 15, 2023 in several home media formats including Blu-ray, 4k Blu-ray, and Digital 4k UHD.
On 4k Blu-ray, Babylon 5: The Road Home is presented in 2160p with HDR10 High Dynamic Range. In Digital 4k UHD, the movie is offered with Dolby Vision HDR. The soundtrack on both Ultra HD Blu-ray and 1080p Blu-ray is provided in DTS-HD Master Audio 5.1. Subtitles are offered in English SDH, French, and Spanish.
The 2-disc Ultra HD Blu-ray edition from Warner Home Media includes a 4k Blu-ray, 1080p Blu-ray, and Digital Code. The single-disc Blu-ray edition includes a Digital Code.
Special features include commentary by creator/writer/executive producer J. Michael Straczynski, actor Bruce Boxleitner, and supervising producer Rick Morales, as well as the featurette Babylon Forever.
Babylon 5: The Road Home on Blu-ray is priced $22.99 (List: $29.98), 4k Blu-ray $27.96 (List: $39.98), and Digital HD/UHD $19.99 at Amazon.
Description: Babylon 5: The Road Home The Road Home is intended to be a treat for original Babylon 5 fans who see things only hinted at in the original series while introducing new viewers to the characters, history, and structure of the B5 universe. Our story will travel across the galaxy, as John Sheridan is whipsawed through multiple timelines and alternate realities in a quest to find his way back home.