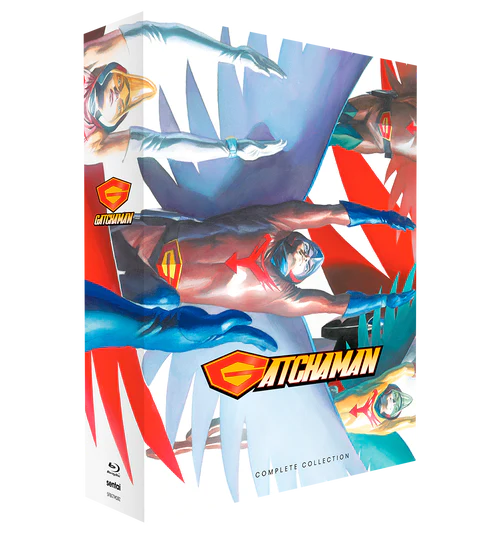 GATCHAMAN Complete Collection is dated for release on Blu-ray Disc with 105 episodes, original video animations (OVAs), and Gatchaman the movie. The 15-disc collection from Sentai arrives in stores on September 26, 2023.
Episodes are presented in 1080p (HD) with DTS-HD Master Audio 2.0 English & Japanese audio. Languages are offered in English, and Japanese with English subtitles. The total runtime of the collection is 2,880 minutes.
Includes
[TV Series] Episodes 1-105 • [OVA] Gatchaman vs Turtle King • [OVA] The Mysterious Red Impulse • [OVA] Final Count 002 • [Movie] Gatchaman – The Movie.
Extras Include
Clean Opening Animation; Clean Closing Animations (x2); Character Profiles; Character Sketches; Episode Sketches; Galleries; Music; Interviews; Audition Footage; Episode Commentaries (x19); OVAs (x3); Movie
GATCHAMAN Complete Collection on Blu-ray has a suggested retail price of $149.99.
Description
Using amazing weapons powered by super-science, the international terrorist organization known as GALACTOR is out to steal all of Earth's resources for itself and its inhuman masters.  Mankind's only hope?  The International Science Organization and their elite strike force, the Science Ninja Team!  But these five young heroes will have their work cut out for them as they take on the seemingly impossible task of defeating GALACTOR's horrific arsenal of mechanized weapons of mass destruction and endless armies of henchmen.  Can costumed commandos Ken the Eagle, Joe the Condor, Jun the Swallow, Jinpei the Sparrow and Ryu the Owl really overcome such overwhelming odds?  Utilizing the incredible technology and fighting techniques created by Dr. Nambu, and with the mighty ship the God Phoenix at their command, they just might!  It's time for the bad guys to get old-schooled science-ninja style as Japan's original super team defeat evil, one flying kick at a time, in the legendary, one and only GATCHAMAN!
GATCHAMAN Complete Collection Packaging