Battlestar Galactica (1978) has been remastered in 4k for release on Ultra HD Blu-ray. The 2-disc edition from Universal Pictures Home Entertainment arrives August 29, 2023 (pushed back from July 17, 2023) and includes a 4k Blu-ray, Blu-ray, and code to redeem a Digital Copy.
On 4k Blu-ray, the movie is presented in 2160p (4k) at 1.85:1 aspect ratio with HDR10 High Dynamic Range. The soundtrack is provided in English DTS-HD Master Audio 2.1 as well as multiple languages in DTS 2.0 Mono.
Subtitles are offered in English SDH, French, German, Italian, Japanese, Spanish, Danish, Finnish, Norwegian, Swedish
Battlestar Galactica (1978) on 4k Blu-ray is priced $21.99 (List: $29.99) on Amazon.
The movie is also available in a 4k Blu-ray SteelBook edition from Best Buy in the US. The edition is priced $27.99 at Best Buy.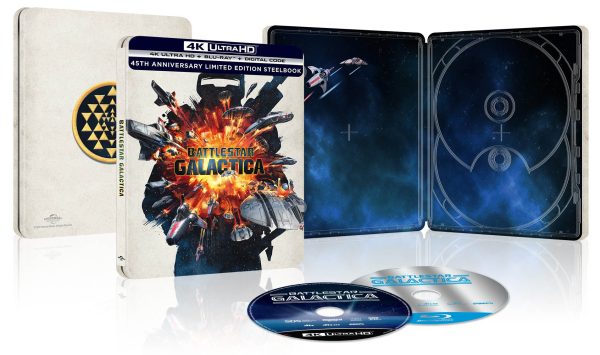 Description: The movie that launched the phenomenon! In the deepest reaches of space, it is a fight to save all human life from extinction in this sci-fi adventure that launched the Battlestar Galactica phenomenon! After the Cylons launch a devastating surprise attack on the Twelve Colonies, a lone flagship battlestar, the Galactica, remains to aid the surviving colonists on their epic journey for a new home to a far-off legendary planet—Earth. They must survive the pursuing Cylons in a series of epic battles that will determine the fate of the human race in this non-stop action-packed classic filled with cutting-edge special effects by Academy Award® winner John Dykstra (Star Wars, Spider-Man 2).