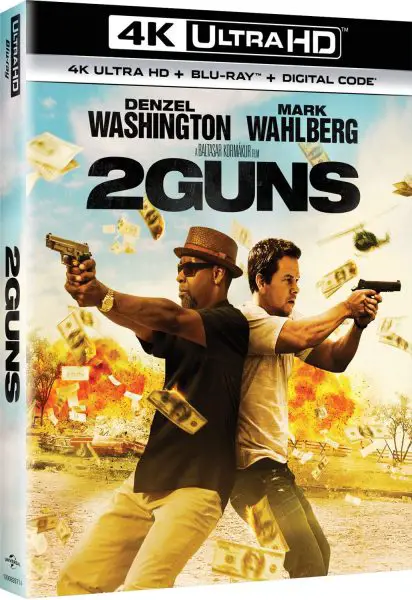 2 Guns (2013) starring Denzel Washington & Mark Wahlberg will release on 4k Ultra HD from Univerrsal Pictures Home Entertainment. The 2-disc edition arriving August 1, 2023, includes copies of the film on 4k Blu-ray, Blu-ray, and Digital (in 4k UHD where available).
On 4k Blu-ray, 2 Guns is presented in 2160p resolution (upscaled from a 2k master) with HDR10 High Dynamic Range for expanded and more realistic color. Audio formats are yet to be confirmed but we're expecting the release to have the same DTS-HD Master Audio 5.1 track as the previously released 1080p Blu-ray.
Legacy bonus features include deleted and extended scenes, Boom! 2 Guns the Graphic Novel, audio commentary, and several "making of featurettes. (See details below.)
2 Guns on 4k Blu-ray/Blu-ray/Digital is priced $21.99 (List: $29.98) at Amazon. A 4k Blu-ray SteelBook edition is also available for $29.99 from Best Buy.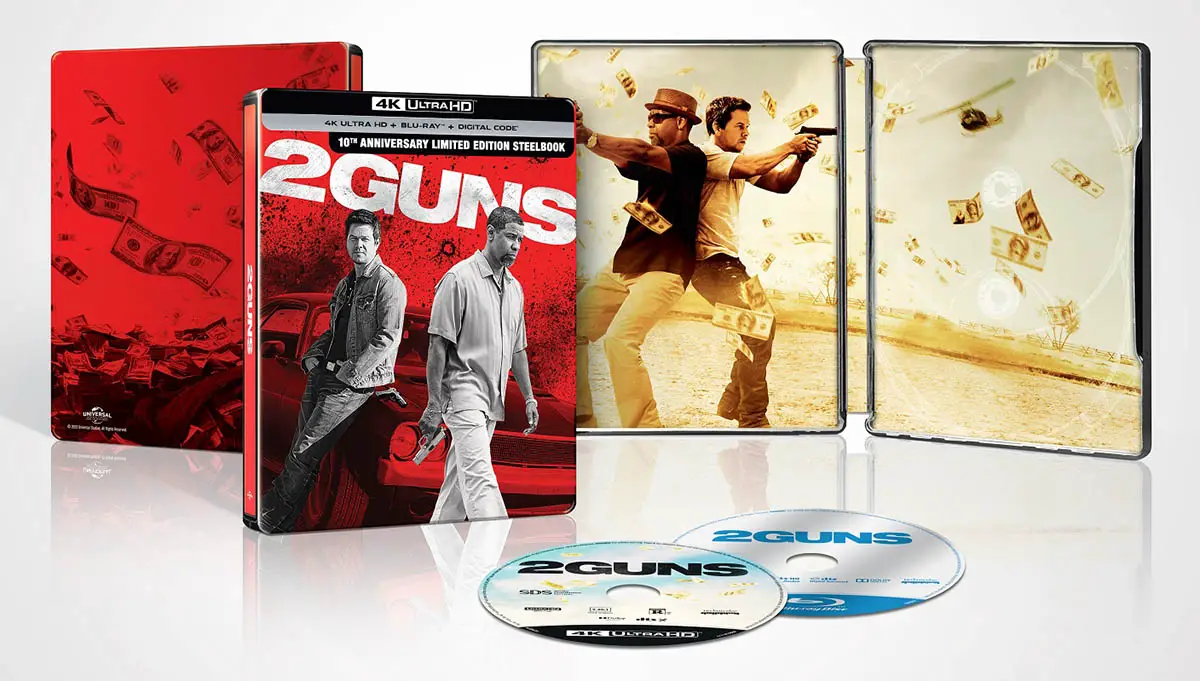 Bonus Content
Includes 4K UHD, Blu-ray and a digital copy of 2 Guns (Subject to expiration. Go to NBCUCodes.com for details.)
Features High Dynamic Range (HDR10) for Brighter, Deeper, More Lifelike Color
Deleted and Extended Scenes
Click, Click, Bang Bang: The Making of 2 Guns
Boom!™ 2 Guns The Graphic Novel
Lines of Fire: Improv on the Set
A Viking in Hollywood
Going Undercover: The Role of a Lifetime
Storyboard to Screen
Feature Commentary with Director Baltasar Kormákur and Producer Adam Siegel
Click, Click, Bang Bang: The Making of 2 Guns: Undercover and into Action
Click, Click, Bang Bang: The Making of 2 Guns: The Good, the Bad and the Sexy
Click, Click, Bang Bang: The Making of 2 Guns: Finding the Vibe
Click, Click, Bang Bang: The Making of 2 Guns: Living Dangerously
Description: Academy Award winner Denzel Washington and Mark Wahlberg lead an all-star cast in the explosive action hit 2 Guns. When an attempt to take down a drug cartel blows up in their faces, two undercover operatives are forced to go on the run together, though neither knows that the other is a federal agent. Suddenly, everyone on both sides of the law wants them dead, and their only hope is to trust each other. Filled with non-stop action and suspense, critics are raving "Washington and Wahlberg are at their very best." – Pete Hammond, Movieline