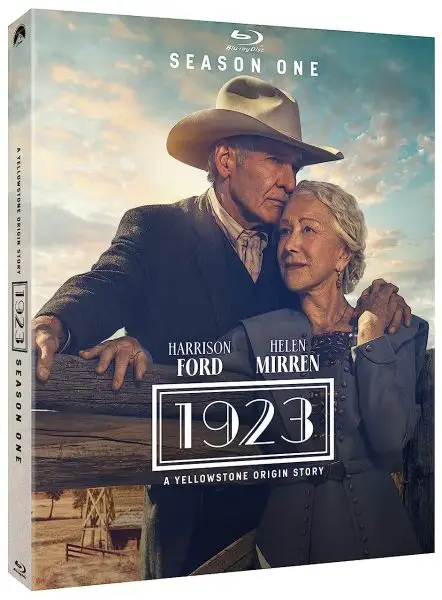 The first season of Paramount+ original series 1923: A Yellowstone Origin Story is set to release on Blu-ray Disc and DVD on August 8, 2023.
The 3-disc edition features all 8 episodes of Season One plus over 2 hours of special features including an extended making-of featurette, a powerful exploration of Teonna Rainwater's harrowing journey, and an exclusive sit-down interview with video editor Chad Galster. Some of those bonus features are exclusive to the disc releases (see details below).
1923: A Yellowstone Origin Story on Blu-ray Disc has an MSRP of $31.99 while the DVD is priced $25.99 on Amazon.
Special Features:
Unstoppable Change: The Adventure of 1923 (Only on DVD & Blu-ray)
I Am the Land: Teonna Rainwater (Only on DVD & Blu-ray)
Reflecting Humanity: The Art & Craft of Editing 1923 (Only on DVD & Blu-ray – Incl. exclusive interview)
Inside the Series
Behind the Story for Every Episode
Synopsis:
1923, a Yellowstone origin story, introduces a new generation of the Dutton family as they explore the early twentieth century when pandemics, historic drought, the end of Prohibition and the Great Depression all plague the mountain west, and the Duttons who call it home. The series is executive produced by Taylor Sheridan, co-creator of Yellowstone, and stars Helen Mirren and Harrison Ford.