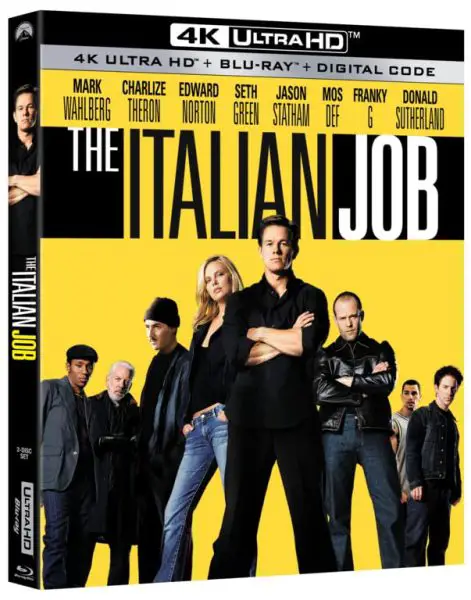 The Italian Job (2003) starring Mark Wahlberg, Jason Statham & Charlize Theron has been upgraded for release on 4k Ultra HD Blu-ray. The 2-disc edition from Paramount Home Media Distribution includes a 4k BD, 2k BD, and code to redeem a Digital Copy.
The 4k upgrade celebrates the film's 20th anniversary since releasing in theaters in 2003. The Italian Job on 4k Blu-ray follows the 4k disc release of the 1969 British film in January.
On 4k Blu-ray, the film is presented in 4k (2160p) resolution with Dolby Vision HDR and DTS-HD Master Audio 5.1 channels. Subtitles are provided in English, English Captions, French, and Spanish.
Special Features
Pedal to the Metal: The Making of The Italian Job
Putting the Words on to the Page for The Italian Job
The Italian Job – Driving School
The Might Minis of The Italian Job
High Octane: Stunts from The Italian Job
Deleted Scenes
The Italian Job (2003) on 4k Blu-ray with Blu-ray/Digital Copy is priced $29.99 on Amazon.