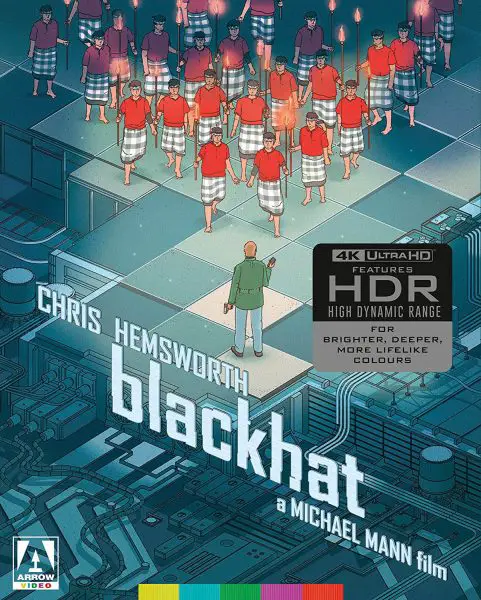 Michael Mann's action/thriller Blackhat starring Chris Hemsworth is getting released on 4k Blu-ray Disc for the first time on May 30, 2023. And, the 2-disc special edition from Arrow Video includes both the US and international version of the film.
Previously released on 1080p Blu-ray in 2015, Blackhat now features 4k (2160p) resolution with Dolby Vision HDR on both versions of the movie along with the original lossless 5.1 audio track.
Bonus features include audio commentaries, Firewall interview, Zero Day Threat interview, The Cyber Threat behind-the-scenes featurettes, image gallery, booklet, reversible sleeve, and more (see details below).
The
Blackhat has a list price of $49.99 (4k Blu-ray) and $39.99 (Blu-ray). Buy on Amazon
Special Features
Optional English subtitles for the deaf and hard of hearing
Brand new audio commentary by critics Bryan Reesman and Max Evry
Firewall – brand new video interview with cinematographer Stuart Dryburgh
Zero Day Threat – brand new video interview with production designer Guy Hendrix Dyas
The Cyber Threat, On Location Around the World and Creating Reality – three archival behind-the-scenes featurettes on the making of the film
Reversible sleeve featuring original and newly commissioned artwork by Doug John Miller
Illustrated collector's booklet featuring new writing on the film by Andrew Graves
Limited Edition slipcover featuring newly commissioned artwork by Doug John Miller
Description: Michael Mann (Thief, Collateral), the acclaimed auteur celebrated for his action panache and commitment to cinematic realism, turns his hand to depicting the high-stakes world of global cybercrime in Blackhat, a contemporary, ripped-from-the-headlines twist on the espionage thriller.
Chris Hemsworth (The Avengers, Extraction) stars as Nick Hathaway, a gifted hacker currently serving a lengthy prison sentence. When a Hong Kong nuclear plant goes into meltdown after its security is penetrated, Chinese army cybersecurity captain Chen Dawai (Leehom Wang, Lust, Caution) offers his old college roommate a deal: help identify and apprehend the culprit in exchange for his own freedom. What follows is a frenetic, globe-trotting race against time to avert disaster, fraught with hidden agendas and ever-shifting loyalties.
Praised for its unusually accurate portrayal of cybersecurity, Blackhat boasts an impressive international cast, including Tang Wei (Decision to Leave), Viola Davis (The Woman King) and Yorick van Wageningen (The Girl with the Dragon Tattoo), and showcases one of cinema's finest filmmakers bringing the skills he honed during a long and storied career to bear on a distinctly 21st-century phenomenon.