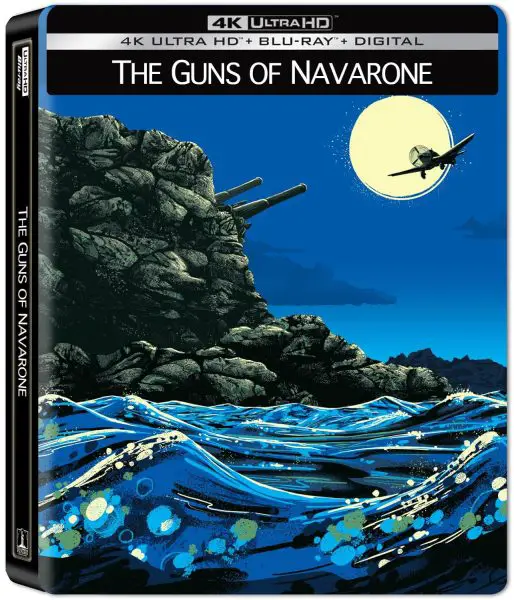 Previously released on 4k Blu-ray in 2021, classic J. Lee Thompson war film The Guns of Navarone (1961) is being reissued in a Limited Edition SteelBook that now includes Dolby Vision along with HDR10 in the 4k presentation.
As noted with the first UHD BD release, The Guns of Navarone was restored from its original negatives for release on 4k Blu-ray Disc and in Digital 4k UHD. The remaster also features a new Dolby Atmos/Dolby TrueHD 7.1 soundtrack, as well as DTS-HD Master Audio 5.1 and the original theatrical 4-track stereo.
The 2-disc combo edition from Sony/Columbia Pictures includes a 4k Blu-ray, Blu-ray (derived from the new 4k remaster), and code to redeem a Digital Copy (in 4k Digital where available.)
Bonus features include audio commentary, narration-free prologue, a message from Carl Foreman, "Memories of Nararone" featurette, interactive feature "The Resistance Dossier of Navarone," and more.
The Guns of Navarone 4k Blu-ray Limited Edition SteelBook is priced $29.99 (List: $45.99) on Amazon.
The Guns of Navarone (1961) was directed by J. Lee Thompson and stars Gregory Peck, David Niven, and Anthony Quinn. The screenplay was written by Carl Foreman based on Alistair MacLean's 1957 novel of the same name. The film was nominated for a total of 7 Academy Awards and won for Best Special Effects.
Bonus Features
Playback available with and without Original Roadshow Intermission Card
NEW Main Title Progression Reel
Theatrical Trailer
Audio Commentary by Director J. Lee Thompson
Audio Commentary by Film Historian Stephen J. Rubin
The Resistance Dossier of Navarone: Interactive Feature
Forging The Guns of Navarone: Notes from the Set
An Ironic Epic of Heroism
Memories of Navarone
Epic Restoration
A Heroic Score
Great Guns
No Visitors
Honeymoon on Rhodes
Two Girls on the Town
Narration-Free Prologue
Message from Carl Foreman
Description: Gregory Peck, Anthony Quinn and David Niven are Allied saboteurs assigned an impossible mission: infiltrate an impregnable German-held island and destroy the two enormous long-range field guns that prevent the rescue of 2,000 trapped British soldiers. Blacklisted screenwriter Carl Foreman (High Noon, The Bridge on the River Kwai) was determined to re-establish both his name and credibility after spending most of the 50's working in anonymity. To accomplish this, he decided to bring Alistair MacLean's best-selling novel, THE GUNS OF NAVARONE, to the screen.
Supported by an all-star cast and produced on a grand scale, the film was an enormous success, receiving seven 1961 Academy Award nominations (including Best Picture) and winning for Best Special Effects. Although Foreman achieved his goal, it was MacLean who would wind up the true beneficiary; his novels became the source for many high adventure screen epics, including Ice Station Zebra and Where Eagles Dare. However, it is THE GUNS OF NAVARONE that remains not only the best of the MacLean adaptations, but one of the greatest action/adventure spectacles ever produced.