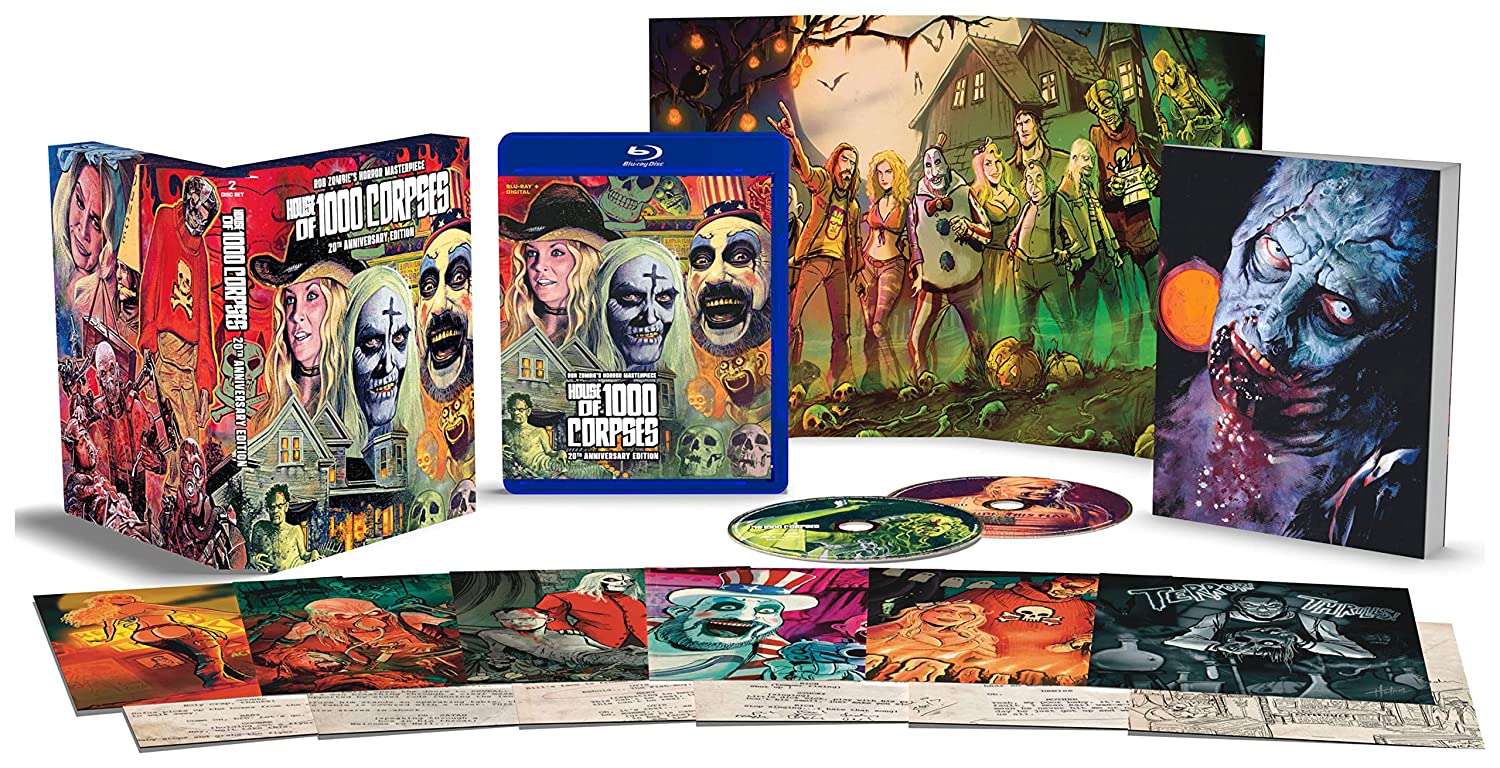 Rob Zombie's House of 1000 Corpses (2003) will celebrate 20 years since releasing in theaters with new Blu-ray editions from Lionsgate Home Entertainment.
The film will be released on April 11, 2023, in a 2-disc box set with 6 illustrated art cards, a 10-page photo book, poster illustration by David Hartman, and special packaging artwork by Graham Humphreys ($34.96 on Amazon). A Blu-ray/Digital SteelBook edition is also available from Best Buy ($21.99).
Boxed Set Special Features
Illustrated outerbox by Graham Humphreys
Illustrated poster by David Hartman
10-page photo book curated by Rob Zombie with illustrations by Graham Humphreys
6 Illustrated Art Cards by David Hartman
Special Features
DISC ONE
Director Commentary
Making-of Featurette
Casting Footage
Rehearsal Footage
Cast and Crew Interviews
Theatrical Trailer
DISC TWO
NEW Bonus Disc of Never-Before-Seen Special Features from Rob Zombie
Cast & Director Interviews
Rob Zombie
Sid Hai
Bill Moseley
Sheri Moon
Karen Black
Rainn Wilson
Chris Hardwick
Erin Daniels
Irwin Keyes
Jennifer Jostyn
Wayne Toth
Behind The Scenes
Includes 5 On-Set BTS Segments
Dr. Satan Test
Professor Test
Electronic Press Kit
Teaser Trailer
*EXCLUSIVELY ON DIGITAL PLATFORMS: New Director's Commentary
Description: Two young couples take a misguided tour onto the back roads of America in search of a local legend known as Dr. Satan. Lost and stranded, they are set upon by a bizarre family of psychotics. Murder, cannibalism, and satanic rituals are just a few of the 1000+ horrors that await.