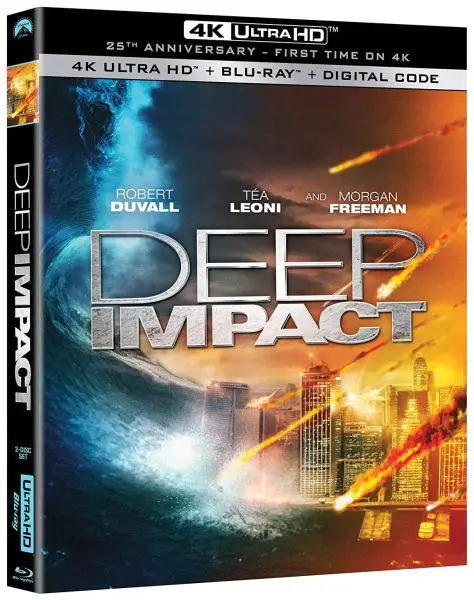 90s thriller Deep Impact starring Morgan Freeman and Tea Leoni has been remastered for release on Ultra HD Blu-ray on May 2, 2023. This is the first time the film has been made available in 4k, celebrating 25 years since Deep Impact was released to theaters in 1998.
On 4k Blu-ray Disc, Deep Impact is presented in 2160p (4k Ultra HD) with Dolby Vision and HDR10 High Dynamic Range specs. The English soundtrack is provided in Dolby TrueHD 5.1 with French in Dolby Digital 5.1. Subtitles are offered in English, English Captions, French, and Spanish.
Special Features
Commentary by director Mimi Leder and visual effects supervisor Scott Farrar
Preparing For The End
Making An Impact Creating The Perfect Traffic Jam
Parting Thoughts
Photo Gallery
Trailers
The 2-disc combo edition from Paramount Home Media includes a copy of the remastered film on 1080p and a code to redeem a Digital Copy.
Deep Impact (1998) on 4k Blu-ray with Blu-ray and Digital Copy is priced $26.99 (List: $30.99) on Amazon.
Synopsis: Directed by Mimi Leder and executive produced by Steven Spielberg, Deep Impact features an all-star cast including Robert Duvall, Téa Leoni, Elijah Wood, Vanessa Redgrave, Leelee Sobieski, Blair Underwood, Maximilian Schell, and Morgan Freeman.