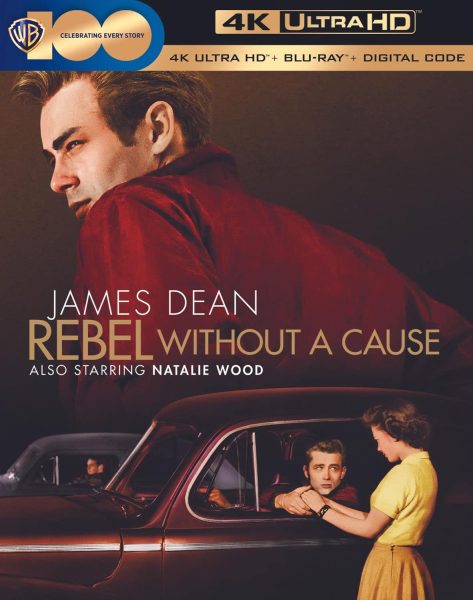 Classic American drama Rebel Without a Cause (1955) directed by Nicholas Ray and starring James Dean and Natalie Wood has been upgraded for release on 4k Ultra HD Blu-ray. The film arrives in 4k for the first time on April 18, 2023.
The 2-disc edition celebrating the 100th Anniversary of Warner Bros. this year includes a 4k Blu-ray, Blu-ray, and code to redeem a Digital Copy through Movies Anywhere
On 4k Blu-ray, Rebel Without a Cause is presented in 2160p with HDR10 High Dynamic Range. The soundtrack is offered in a new Dolby Atmos mix as well as DTS HD Master Audio.
Extras include audio commentary on the 4k Blu-ray and documentaries, additional scenes (without sound) theatrical trailer, and more.
Rebel Without a Cause on 4k Blu-ray (4/18/23) is priced $25.99 on Amazon.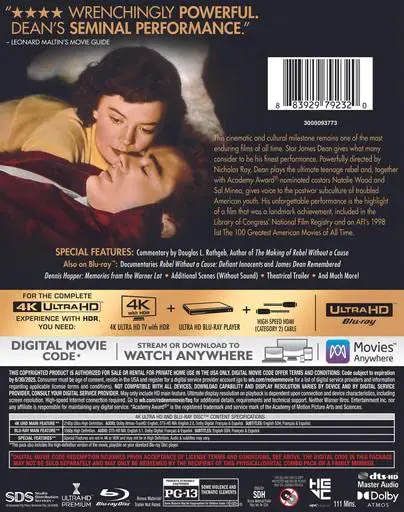 Best Buy will also release a Limited Edition SteelBook version of Rebel Without a Cause with 4k Blu-ray, Blu-ray, and Digital Copy. The exclusive is priced $32.99. Purchase at Best Buy