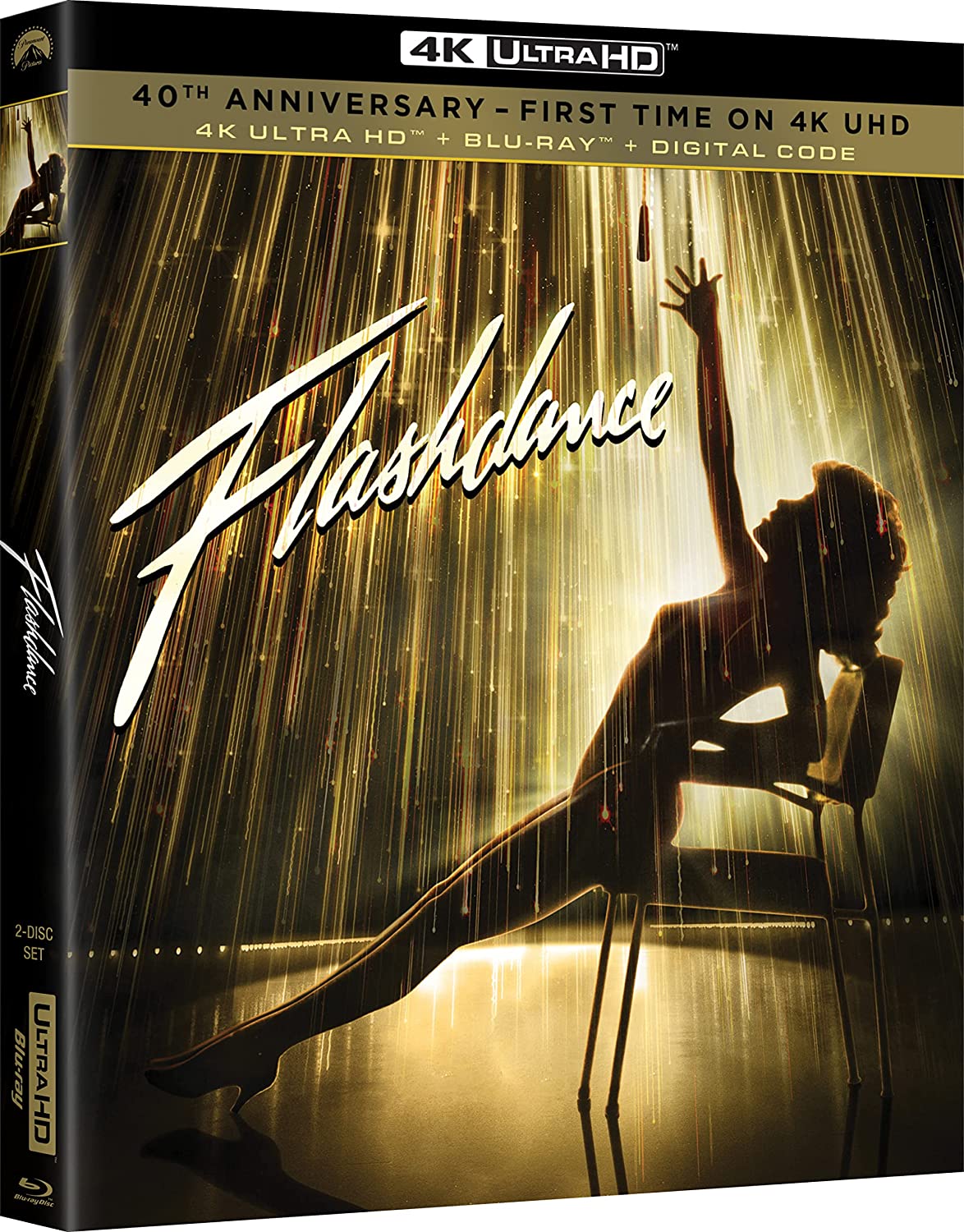 Her name is Alex. She works in a man's world.
Paramount Pictures is celebrating the 40th Anniversary of the hit movie Flashdance (1983) with a 4k Ultra HD Blu-ray release on April 11, 2023. This will be the first time the movie has ever been available in 4k, and the presentation will feature Dolby Vision/HDR10 to expand color range on supporting TVs and screens.
The 2-disc combo edition of Flashdance from Paramount Home Media Distribution includes a 4k Blu-ray, 1080p Blu-ray, and a code to redeem a Digital Copy.
Following previous Blu-ray editions, the soundtrack to Flashdance is provided in 24-bit DTS-HD Master Audio 5.1 (English) as well as Dolby Digital 2.0 (French). Subtitles are provided in English, English SDH, and French.
The 40th Anniversary 4k Blu-ray edition of Flashdance with 1080p Blu-ray and a code to redeem a Digital Copy is priced $25.99 (List: #29.99) on Amazon.
Flashdance was previously released in a remastered 1080p Blu-ray edition as part of the Paramount Presents series of Blu-ray and 4k Blu-ray editions. The Blu-ray was No. 4 in the series and offers a mini foldout poster featuring Jennifer Beals.
Synopsis: The hit movie that became a cultural sensation dazzles on 4K Ultra-HD, approved by director Adrian Lyne. Delivering an electrifying mix of music, drama and dance, Jennifer Beals stars as Alex—a fiercely determined 18-year-old with one all-consuming dream to study at the Pittsburgh Conservatory of Dance. Working during the day as a welder and at night as an exotic dancer, she bravely pursues her dream and undertakes an unforgettable journey that reveals the power of her convictions. Featuring the Oscar–winning song "Flashdance—What a Feeling," as well as the iconic global hit "Maniac."