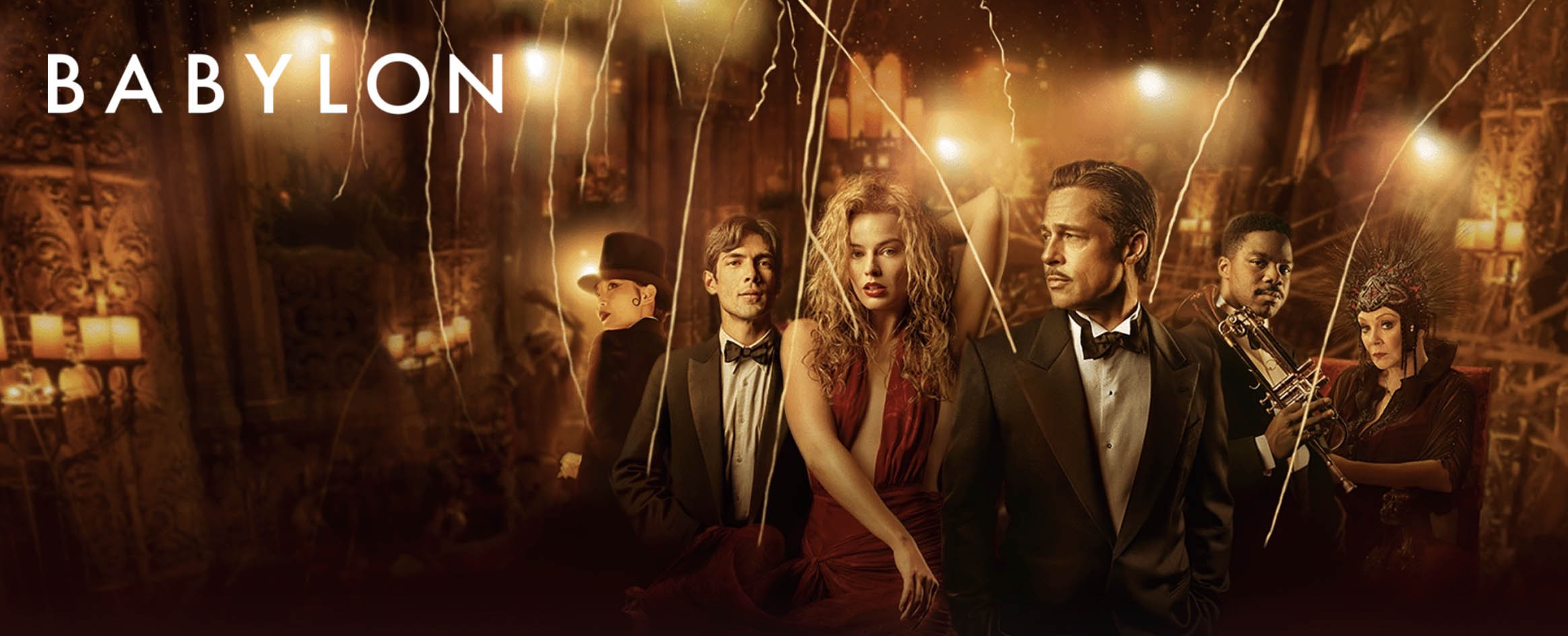 Babylon has been released for home viewing in digital formats, now available to rent or purchase from Amazon, Apple, Google, Microsoft, & Vudu.
Damien Chazelle's Oscar-nominated drama Babylon has been released (Jan. 31, 2023) for purchase or rent in digital formats including 4k UHD (Ultra High Definition), HD (High Definition), and SD (Standard Definition). The film was nominated for three Academy Awards including Best Original Score, Best Production Design, and Best Costume Design.
The digital release of Babylon comes about seven weeks ahead of the packaged release of the film on Blu-ray, 4k Blu-ray, and DVD on March 21, 2023. The physical media options include a Limited Edition SteelBook with 4k Blu-ray, Blu-ray, and Digital Copy.
Bonus materials with select providers including Apple TV, Microsoft, and Vudu include four deleted scenes, two extended scenes, and two featurettes. (See details below.)
Babylon in all digital formats is priced $24.99 to purchase and $19.99 to rent from the most popular digital movie services including Apple TV, Amazon Prime Video, Google Play Microsoft Movies & TV, and Vudu, as well as through select TV service providers On-Demand.
Where To Buy/Rent Babylon
Bonus Materials*
Featurette – A Panoramic Canvas Called Babylon – 30 min
Featurette – The Costumes Of Babylon – 2 min
Featurette – Scoring Babylon – 1 min
Deleted Scene – Manny Drives Jack – 55 sec
Deleted Scene – Cutting Room – 42 sec
Deleted Scene – Dressing Room Fight – 2 min
Deleted Scene – Passport Search – 1 min
Extended Scene – Elinor Chats With Extra – 2 min
Extended Scene – Powder Room – 1 min
*Where available
Synopsis: Babylon follows an ambitious cast of characters — The Silent Film Superstar (Brad Pitt), the Young Starlet (Margot Robbie), the Production Executive (Diego Calva), the Musical Sensation (Jovan Adepo) and the Alluring Powerhouse Performer (Li Jun Li) — who are striving to stay on top of the raucous, 1920s Hollywood scene and maintain their relevance at a time when the industry is moving on to the next best thing.
Also Read: Babylon up for Pre-Order on 4k Blu-ray, 4k SteelBook, Blu-ray, DVD & Digital