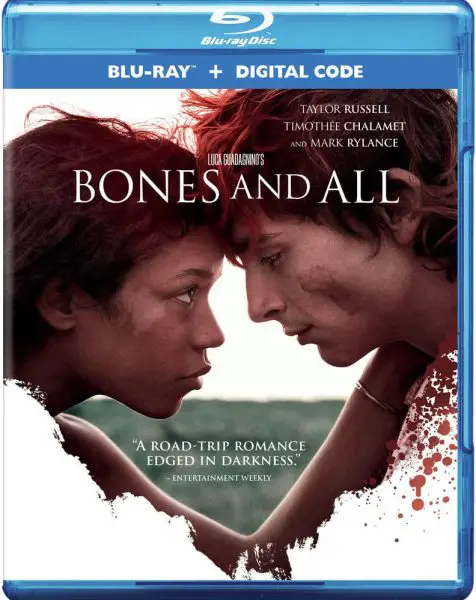 Bones And All (2022) starring Taylor Russell, Timothée Chalamet, and Mark Rylance is releasing on Blu-ray Disc, DVD, and Digital. The film was first available in digital formats on Dec. 17, 2022, and will release on Blu-ray Disc, DVD, and for rental on January 31, 2023.
On Blu-ray Disc, the movie is presented in 1080p (HD) at 1.85:1 aspect ratio. In digital format, Bones And All is available in 2160p (4k UHD) with Dolby Vision HDR and Dolby Atmos audio (with select digital retailers).
The Blu-ray edition from Warner Bros. includes a code to redeem a Digital Copy. Bonus features TBD.
Bones And All Blu-ray/Digital combo edition is priced $27.99 (List Price: $34.98) on Amazon. while the Digital 4k UHD is priced $19.99. Buy on Amazon
Synopsis: "Bones and All" is a story of first love between Maren (Taylor Russell), a young woman learning how to survive on the margins of society, and Lee (Timothée Chalamet), an intense and disenfranchised drifter; a liberating road odyssey of two young people coming into their own, searching for identity and chasing beauty in a perilous world that cannot abide who they are.