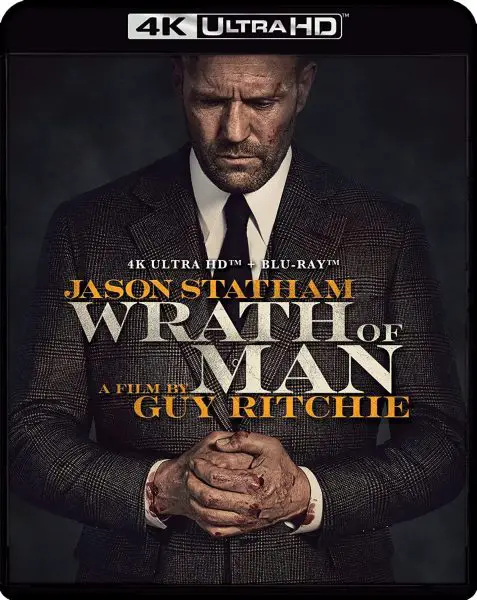 Guy Ritchie's Wrath of Man (2021) starring Jason Statham is now available on 4k Ultra HD Blu-ray from Shout! Factory. The 2-disc edition includes copies of the film on both 2160p Blu-ray and 1080p Blu-ray.
On 4k Blu-ray, the movie is presented in 2160p resolution with HDR10 High Dynamic Range. The English soundtrack is provided in Dolby Atmos, Dolby TrueHD 7.1, and DTS-HD Master Audio 5.1.
Wrath of Man on 4k Blu-ray with Blu-ray copy (1/17/2023) is priced $27.99 US. Buy on Amazon
Synopsis: A mysterious armed car security guard (Jason Statham) surprises his co-workers during a heist in which he unexpectedly unleashes precision skills, leaving the crew wondering who he is and from whence he came. Featuring a stellar cast including Statham (Death Race), Josh Hartnett (Lucky Number Slevin), Laz Alonso (The Boys), and Scott Eastwood (Suicide Squad)—and written and directed by auteur filmmaker Guy Ritchie (Lock, Stock and Two Smoking Barrels; Snatch), this breakneck-paced film delivers heart-wrenching twists and turns right up to its ""epic, grand finale"" (New York Post)!