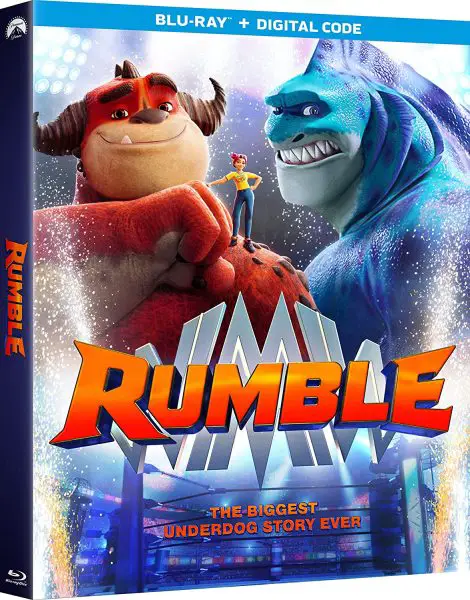 Paramount's animated feature Rumble is now available on Blu-ray Disc and DVD. The single-disc Blu-ray combo edition includes a Digital Copy of the movie along with bonus featurettes and deleted scenes (detailed below).
On Blu-ray Disc, Rumble is presented in 1080p at 2.39:1 aspect ratio. The English soundtrack is offered in DTS-HD Master Audio 5.1, with a French option in Dolby Digital 5.1.
Rumble features the voice talents of Will Arnett, Geraldine Viswanathan, and Terry Crews, as well as real-life NBA All-Star Charles Barkley, and WWE professional wrestlers Roman Reigns and Becky Lynch.
Rumble is priced $19.99 on Blu-ray and $13.99. on DVD. Buy on Amazon
Special Features
The Super-Secret Playbook — Winnie (Geraldine Viswanathan) narrates this exciting exploration of her dad's championship-winning plays for Rayburn, Sr. The playbook comes to life as the pages turn and reveal exciting moves with fully animated wrestlers that leap off the pages.
The Mon-Stars of Wrestling — For a sport to capture the imagination of fans, it needs superstar athletes with larger-than-life personalities. Meet the hulking behemoths inside the six-sided Monster Wrestling ring who keep the world mesmerized.
Salsa with Rayburn, Jr.— In this unique tutorial, Rayburn invites viewers to learn some of his signature moves step-by-step. Families can learn to Salsa like Rayburn… and get a good workout with the hero of the film!
Massive Monsters, Wrestling Moves, and Dazzling Dances — Director Hamish Grieve takes center stage in this behind-the-scenes look at creating the monsters, their textures, and their signature arsenal of moves.
Four Rounds in the Animation Ring
Deleted Scenes