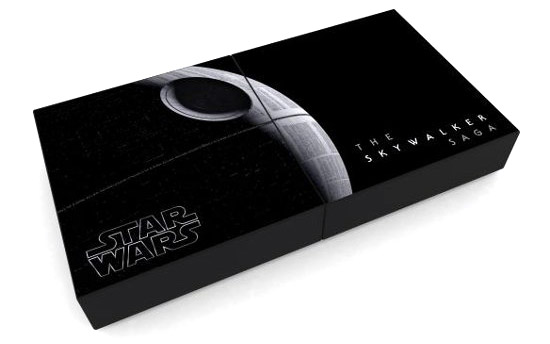 Best Buy has revealed an exclusive boxed set called "The Skywalker Saga" that includes all 9 movies from the main Star Wars storyline. The films are packaged in a handsome widescreen format black box featuring the Death Star on the cover. Priced $249, "The Skywalker Saga" includes copies on 4k Blu-ray, Blu-ray, and Digital in a giant 27-disc set that arrives in Best Buy stores on March 31st, 2020.
But while a collection that encompasses all 9 films is enticing, the question remains whether or not each movie will be offered on Ultra HD Blu-ray. If so, it will be the first time any Star Wars movie with the exception of 'The Last Jedi' releases to 4k on disc. Update: Amazon UK provides the following description of the collection (exclusive in the UK) confirming each title on UHD BD plus Dolby Atmos.
Limited Edition (27 discs) featuring all 9 Saga movies on 4K UHD, Blu-ray and Bonus discs (Blu-ray) for every movie in a special collector's set. All 9 episodes feature Dolby Atmos 7.1.4
The 9 Star Wars films in the collection include Episode I: Phantom Menace, Episode II: Attack of The Clones, Episode III: Revenge of The Sith, Episode IV: A New Hope, Episode V: The Empire Strikes Back, Episode VI: Return of The Jedi, Episode VII: The Force Awakens, Episode VIII: The Last Jedi and Episode IX: The Rise of Skywalker.
Best Buy does not include a full description of this edition (hence, the initial reluctance to confirm whether every title will be on 4k Blu-ray), but the collection will contain even the earliest Star Wars films on Ultra HD Blu-ray beginning with Star Wars: Episode IV — A New Hope (1977).
And, if following suit with 'The Last Jedi' on 4k Blu-ray, each Star Wars title will likely be presented in 2160p with both Dolby Vision and HDR10 High Dynamic Range formats as well as a Dolby Atmos/TrueHD 7.1 soundtrack.
Neither Amazon UK or Best Buy have announced an official date yet, but we're betting a late March/early April release of 'The Skywalker Saga' coinciding with disc editions of Star Wars: The Rise of Skywalker, also releasing as an exclusive. No word yet on a smaller, less expensive 4k Blu-ray collection of the saga. Jump over to Best Buy to see the product listing for The Skywalker Saga.
It won't be the first time all Star Wars films have been viewable in 4k at home. Disney recently launched Disney+ with all but 'The Last Jedi' streaming in Ultra HD (the title is exclusive on Netflix until Dec. 25, 2019).
Also Read: 'Star Wars: The Rise of Skywalker' 4k Blu-ray SteelBook Pre-Orders Up
Note: This article has been revised with updated information.