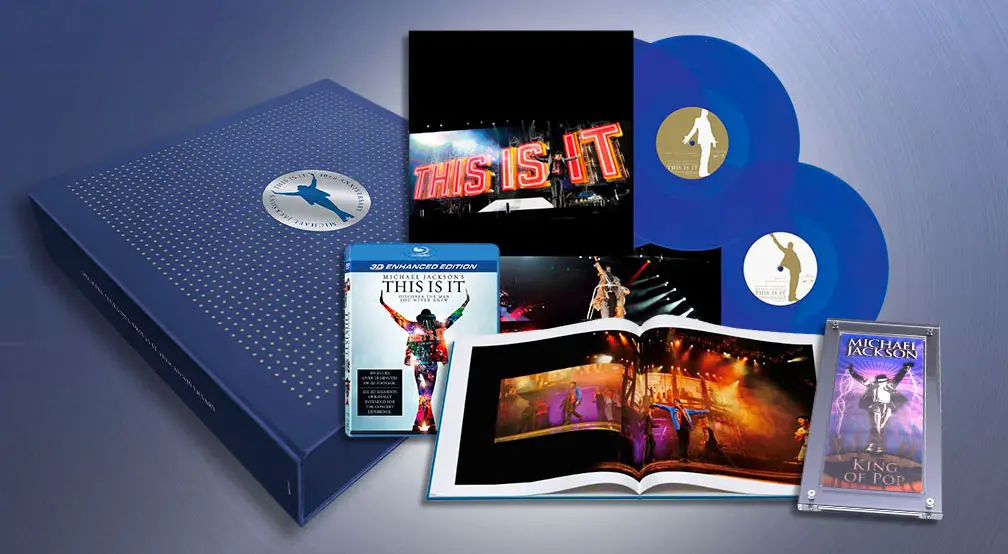 A just-revealed box set celebrating the 10th Anniversary of Micheal Jackson's "This Is It" is now up for pre-order. The limited edition of 1000 copies contains 4-LP vinyl set in translucent blue color and 60-page hardcover photo book housed within a custom box featuring a sound-responsive LED light panel.
The boxed set also contains a "3D Enhanced" Blu-ray with over 10 minutes of 3D footage. This isn't active shutter or polarized 3D but rather MVC Encoded for L/R eye stereoscopic encoding. There are actually units of this promotional BD floating around the web that were packaged with certain TVs.
Perhaps the most collectible item in this boxed set is the inclusion of one authentic lenticular concert ticket for the July 24, 2009 show that never took place.
Don't expect to get the box collection for a song and dance though (pun intended). The limited edition is selling for $479 a pop (another pun intended). Still though, for the die-hard MJ collector this could be a must-have or even a long-term investment.
The Michael Jackson "This Is It" 10th Anniversary Box Set starts shipping December 11, 2019. The only place to get it as of now is the official Michael Jackson online store.
Micheal Jackson's "This Is It" 10th Anniversary Features
A repressing of the This Is It 4-LP vinyl set on translucent blue vinyl with original jacket artwork
12" X 12" 60-page hardcover coffee table color photo book containing full-page still photographs from original CD booklet and additional previously unpublished photos from This Is It rehearsals
Rare promotional 3D enhanced Blu-ray disc of the film never released as a standalone version (3D Blu-ray player and TV not required for playback in 2D).
Each box contains one of the actual lenticular concert tickets for the July 24, 2009 performance of This Is It at the O2 arena, mounted in acrylic ticket holder
All contained in a collectible limited-edition numbered custom box with a built-in sound-responsive LED light panel on the front cover
Limited to only 1000 copies
[amazon_link asins='B0013D6LEM,B002VL2PTU,B00FVGW7I6′ template='ProductGrid' store='hdrep-20′ marketplace='US' link_id='1b90f465-1df2-4323-8644-a68935afc776′]