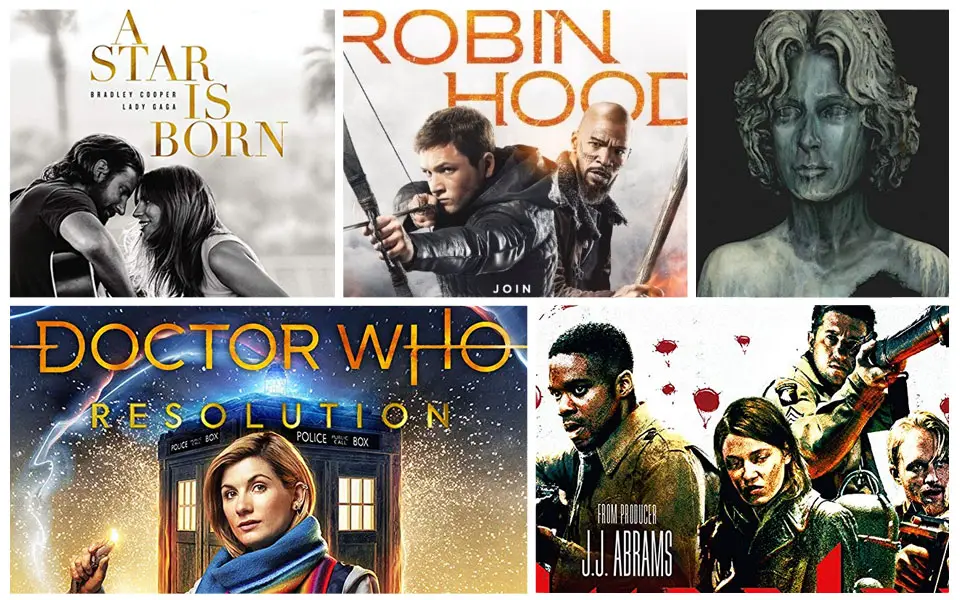 This week Oscar-nominated drama A Star Is Born tops the most popular new Blu-ray releases. The film, starring starring Lady Gaga and Bradley Cooper, hits stores on Blu-ray and 4k Blu-ray in 2-disc combo editions from Warner Bros that include several pieces of bonus material and a digital copy. Best Buy and Target also have their own exclusive retailer editions, the former with Steelbook casing and the latter with an exclusive bonus and packaging.
Overlord is a war/horror film from producer J.J. Abrams that begins on the eve of D-Day, 1944. The movie is also available on Blu-ray and 4k Blu-ray in 2-disc editions from Paramount. Each combo includes a second disc, digital copy, and six featurettes under the title "The Horrors of War." Get more details.
And, Lionsgate's Robin Hood (2018) also releases to stores on Tuesday, Feb. 19 in 2-disc combo editions that package an extra disc and code to redeem a digital copy. The film is presented on both 1080p Blu-ray and 2160p Ultra HD Blu-ray and each BD edition includes the 7-part documentary "Outlaws and Auteurs: Reshaping Robin Hood," outtakes, and several deleted scenes.
New on Blu-ray, Feb. 19, 2019
Ultra HD Blu-ray
SGT. Will Gardner (2019)
A Star Is Born (2018)
Overlord (2018)
Robin Hood (2018)
Blu-ray Disc
Movies
A Star Is Born (2018)
Overlord (2018)
Robin Hood (2018)
Doctor Who: Resolution (2018)
Backtrace (2018)
Iceman: The Time Traveler (2018)
The Rundown (2018)
The Change-Up (2011)
Backbeat (1994)
Skinner (1993)
Hard Target (1993)
Cry-Baby (1990)
Barb Wire (1986)
Youngblood (1986) – Special Edition
Year of the Dragon (1985) – Warner Archive
The Legend of Billie Jean (1985)
Dracula (1979)
Death in Venice (1971) – Criterion Collection
Chronicle Of Anna Magdalena Bach (1968)
So Dark The Night (1946)
My Name Is Julia Ross (1945)
The Return of the Vampire (1943)
Buck Privates (1941)
Collections
Dracula's Fiancee / Lost in New York
Anime/Japanese
Mazinger Z: Infinity
K-on!
Parasyte – The Maxim – Complete Collection
Teasing Master Takagi-san – The Complete Series
In case you missed it, here's a link to last week's new Blu-ray & 4k Blu-ray releases.