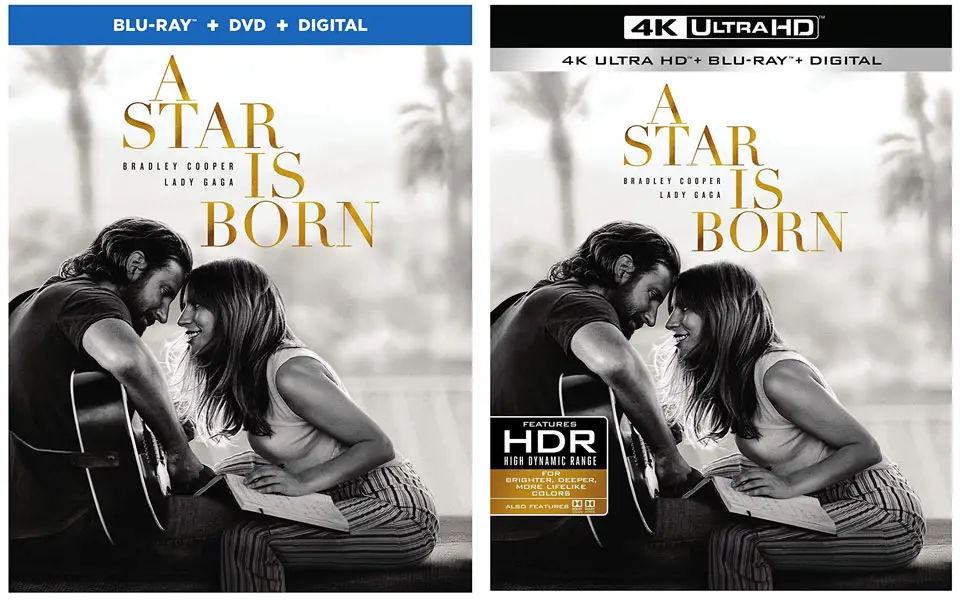 We've got the home media release dates for A Star Is Born starring Lady Gaga and Bradley Cooper! The film is expected to have an early digital release on Jan. 15, 2019, which will allow customers to purchase (not rent) the film in digital formats only.
The Blu-ray, 4k Blu-ray and DVD editions of A Star Is Born will release on Tuesday, Feb. 18, just a week before the 91st Academy Awards ceremony on Sunday, Feb. 24.
The Blu-ray editions include plenty of bonus material such as "The Road to Stardom: Making A Star Is Born," three "Jam Sessions and Rarities" featurettes, and four music videos by Lady Gaga including one duet with Bradley Cooper. And, the 2-disc editions from Warner Bros. include a code to redeem a digital copy (that will expire on Mar. 31, 2020).
A Star Is Born on Blu-ray can be pre-ordered from Amazon for $24.99 (List $34.99), 4k Blu-ray for $29.95 (List $44.95), and DVD for $17.99 (List $29.99).
A Star Is Born Bonus Content
– The Road to Stardom: Making A Star Is Born
– Jam Sessions and Rarities: "Baby What You Want Me to Do"
– Jam Sessions and Rarities: "Midnight Special"
– Jam Sessions and Rarities: "Is That Alright" by Lady Gaga
– Music Videos: "Shallow" Lady Gaga and Bradley Cooper
– Music Videos: "Always Remember Us This Way" by Lady Gaga
– Music Videos: "Look What I Found" by Lady Gaga
– Music Videos: "I'll Never Love Again" by Lady Gaga