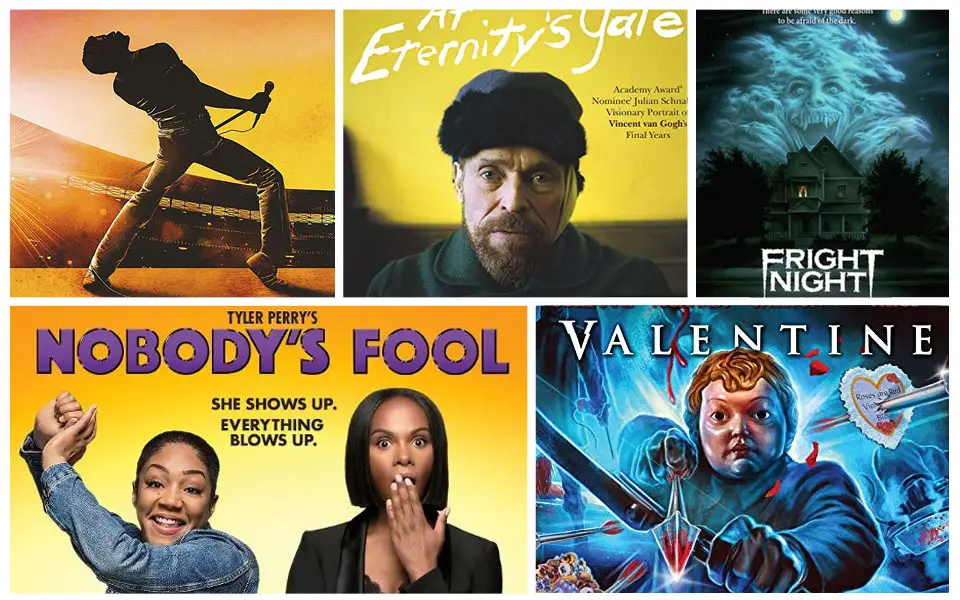 At the top of new Blu-ray releases this week is the 20th Century Fox drama Bohemian Rhapsody starring Rami Malek. The film is available on both Blu-ray and 4k Blu-ray in combo editions that include an extra disc and digital copy. There are also retail exclusives from Best Buy, Target, and Walmart.
Other mentionable Blu-ray releases this week include BBC's Pride and Prejudice TV mini-series, Oscar-nominated At Eternity's Gate starring Willem Dafoe, Tyler Perry's comedy Nobody's Fool, a Collector's Edition of Valentine (2001), and the eighties film Fright Night (1985). Take a look at more Blu-ray releases this week below.
New Blu-ray Releases, Feb. 12, 2019
Ultra HD Blu-ray
Bohemian Rhapsody
Bohemian Rhapsody – Best Buy SteelBook
Blu-ray
TV Series
Pride and Prejudice – BBC
Rick and Morty: The Complete Seasons 1-3
Nightflyers: Season One
Movies
Bohemian Rhapsody (2018)
Nobody's Fool (2018)
At Eternity's Gate (2018)
The Happy Prince (2018)
The Front Runner (2018)
The Appearance (2018)
Nothing is Truer Than Truth (2018)
Bayou Caviar (2018)
Bogalusa Charm (2017)
Maria By Callas: In Her Own Words (2017)
Happy Hour [Japanese] (2015)
Revenge of the Spacemen (2014)
The Saxon New World (2012)
Starsky & Hutch (2004)
Engine Trouble (2002)
Valentine (2001) – Collector's Edition
Audition (1999)
Four Weddings and a Funeral (1994) – 25th Anniversary
The Real McCoy (1993)
Popcorn (1991) – Collector's Edition
Fright Night (1985) – Region A/B/C German Import
Berlin Alexanderplatz (1983) – Criterion Collection
Summer Lovers (1982)
Peppermint Soda (1979)
Horror Express (1972)
The Group (1966)
La Vérité (1960)
None Shall Escape (1944)
Der Hund von Baskerville (1929)
Purgatory Road (1917)
Anime
Sailor Moon Super S the Movie
Hentai Heaven Vol. 6: The Alien, The Maid & The Fox
My Girlfriend Is Shobitch
Grimgar, Ashes and Illusions: The Complete Series
Ace Attorney: Season One
Collections
The Poison Ivy Collection
Shinobi Girl The Movie & Death Trance: Tokyo Shock Double Blade Swordplay
Haruchika: The Complete Series
In case you missed it, here are last week's new Blu-ray releases.