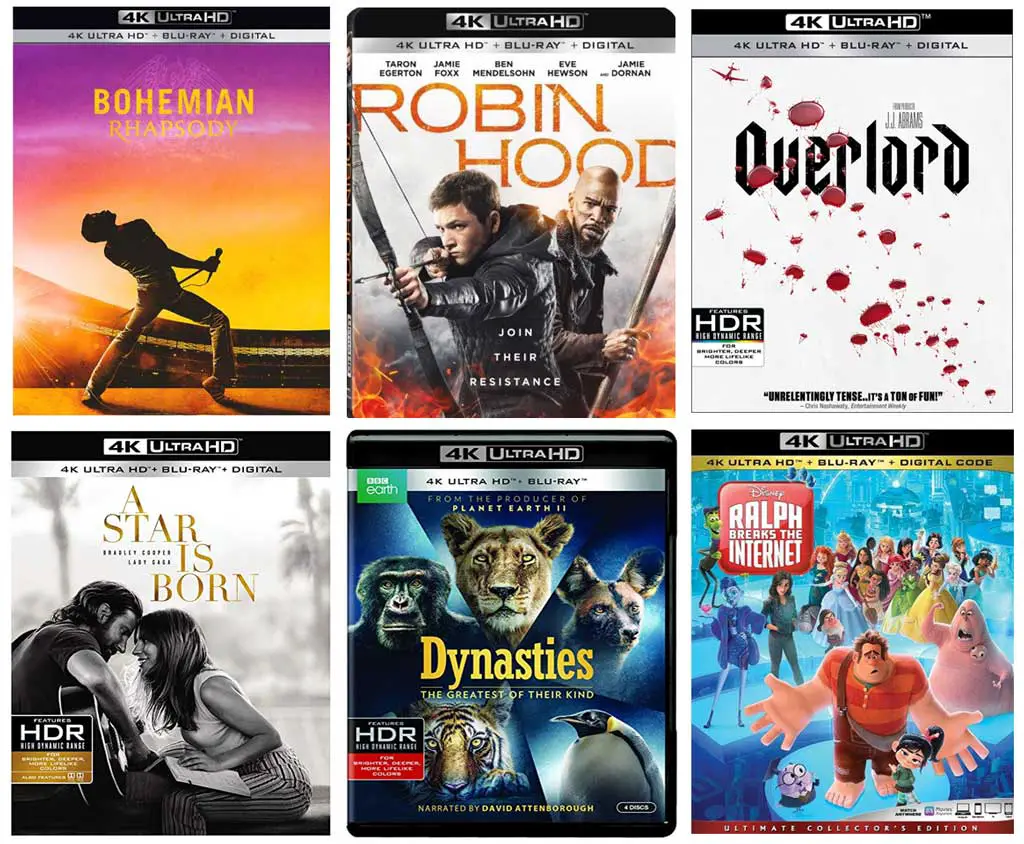 Every month we try to give you a heads up on what's coming to Ultra Blu-ray. In January there were about 15 new 4k titles, not including exclusive editions from retailers. This month we count a dozen new 4k Blu-rays not including exclusives. Of course, some new announcements could be made so we'll update this article whenever possible.
Highlights this month include Bohemian Rhapsody releasing to Blu-ray Disc and 4k Blu-ray on Feb. 12. The film will be available in a standard 4k Blu-ray edition along with several retailer exclusives. Best Buy's limited edition comes in SteelBook packaging. Target's edition includes an exclusive photo book. And, Walmart's edition includes an exclusive t-shirt.
On Feb. 19, A Star Is Born starring Bradley Cooper and Lady Gaga gets released to 4k Blu-ray along with Blu-ray and DVD. The movie will also be available in a SteelBook edition from Best Buy as well as exclusive from Target with special packaging and a bonus feature.
Other 4k releases this month include Robin Hood (2018), the documentary Dynasties from BBC Earth, Disney's The Little Mermaid – Signature Collection available in a common edition and exclusives from Best Buy and Target, and Disney's Ralph Breaks the Internet in an Ultimate Collector's Edition (pictured above), a Best Buy SteelBook, and Target Exclusive with gallery/photo book.
New 4k Blu-ray Releases, February 2019
Feb. 5
Widows
Illumination Presents: Dr. Seuss' The Grinch
Aircraft Carrier: Guardian of the Seas
The LEGO Movie: 3-Film Collection
Feb. 12
Bohemian Rhapsody
Bohemian Rhapsody – Best Buy SteelBook
Bohemian Rhapsody – Target Exclusive w/Photo Book
Bohemian Rhapsody – Walmart Exclusive w/T-Shirt
Feb. 19, 2019
A Star Is Born
A Star Is Born – Best Buy SteelBook
A Star Is Born – Target Exclusive w/Bonus Feature
Overlord
Robin Hood (2018)
Robin Hood (2018) – Best Buy SteelBook
Feb. 26, 2019
Dynasties
Mary Queen of Scots
The Little Mermaid (The Signature Collection)
The Little Mermaid (The Signature Collection) – Best Buy SteelBook
The Little Mermaid (The Signature Collection) – Target Exclusive DigiBook
Ralph Breaks the Internet
Ralph Breaks the Internet – Best Buy SteelBook
Ralph Breaks the Internet – Target Exclusive w/Gallery & Storybook
Captain America: The First Avenger
Captain America: The First Avenger – Best Buy SteelBook
In Case You Missed: New 4k Blu-ray Releases in January, 2019