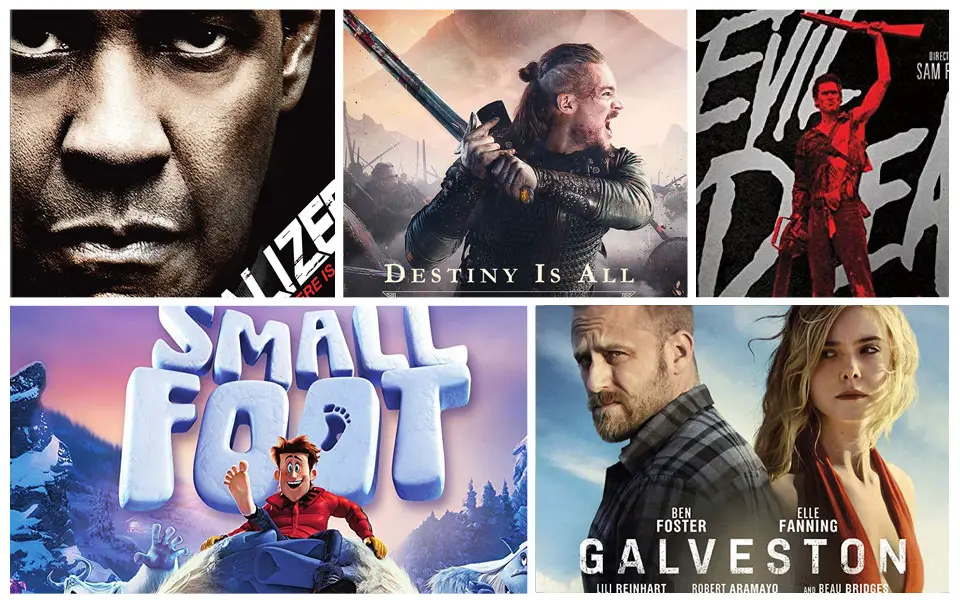 The Equalizer 2 is one film many of us have been waiting for, partly because we already own The Equalizer and want to add the sequel, and partly to see if it's any better watching a second time at home rather than in the theater. The film is available on Blu-ray and Ultra Blu-ray in 2-disc editions with digital copy and quite a few extras including 11 deleted & extended scenes.
Evil Dead 2 from director Sam Raimi is a classic horror film that's been upgraded to Ultra HD Blu-ray with Dolby Vision and a DTS-HD Master Audio 5.1 soundtrack. The combo edition from Lionsgate, following the release of the prequel Evil Dead to 4k, includes an Ultra HD Blu-ray, Blu-ray, and Digital copy, as well as previously-released extras and a new bonus "Tribute to Sam Raimi's Evil Dead 2."
Other films you might want to check out include Peppermint starring Jennifer Garner, the Warner Bros. animated movie Smallfoot with voiceovers from Channing Tatum, James Corden, and Zendaya, Galveston starring Ben Foster and Elle Fanning in both Blu-ray and 4k Blu-ray formats, and the documentaries A Beautiful Planet and Journey to the South Pacific — two great films on Ultra HD Blu-ray to show off your 4k TV.
From television, The Last Kingdom: Season Three is our pick of the week. Already available on Netflix, the third season of the series based on the novels by Bernard Cornwell contains ten episodes for a total runtime of 8 hours and 49 minutes, and includes the bonus feature: "The Battles of The Last Kingdom Season Three."
Here's an extended list of new Blu-ray releases this week. The titles are ordered by release date, not by popularity or disc sales. Scroll down further for documentaries, anime and disc collections.
New on Blu-ray & 4k Blu-ray, Dec. 11, 2018
Ultra HD Blu-ray
The Equalizer 2 (2018)
Galveston (2018)
River Runs Red (2018)
We The Marines (2017) – Short
A Beautiful Planet (2016)
Journey to the South Pacific (2013)
Evil Dead 2 (1987)
Blu-ray
TV Shows
The Last Kingdom: Season Three
Movies
The Equalizer 2 (2018)
Smallfoot (2018)
Peppermint (2018)
Unbroken: Path to Redemption (2018)
Galveston (2018)
Along With The Gods: The Last 49 Days (2018)
SGT Stubby: An American Hero (2018)
Lizzie (2018)
Colette (2018)
River Runs Red (2018)
I Still See You (2018)
Await Further Instructions (2018)
The Rainbow Experiment (2018)
22 Chaser (2018)
Bitter Melon (2018)
The Wild Boys (2017)
Newly Single (2017)
Brutal (2007)
5ive Girls (2006)
The Mangler (1995)
Pet Shop (1994)
Texas Chainsaw Massacre: The Next Generation (1994)
Toy Soldiers (1991)
A Dry White Season (1989)
My Neighbor Totoro (1988)
Silent Night, Deadly Night Part 2 (1987)
Maniac (1980)
Death Ship (1980)
Fiend (1980)
The Blue Knight (1973)
Wild Women (1970)
De Palma & De Niro: The Early Films (1969)
Hang 'Em High (1968) – 50th Anniversary
Oliver! (1968)
The Apartment (1960)
Forty Guns (1957)
Foxfire (1955)
Female on the Beach (1955)
The Last Command (1955)
Tailspin Tommy in The Great Air Mystery (1935)
Documentaries
Somm 3 (2018)
Dan & Phil 2018 World Tour: Interactive Introverts (2018)
Social Animals (2018)
Anime
Uq Holder
KONOHANA KITAN: The Complete Series
Anime-Gataris: The Complete Series
Princess Tutu: Complete Collection
Samurai Warriors: The Complete Series
Trickster: The Complete Series
Dive!!
Collections
Popeye The Sailor: The 1940s Volume 1
Unbroken: 2-Movie Collection
Digimon Adventure tri.: 6-Film Collection
In case you missed it, here are last week's new Blu-ray releases.