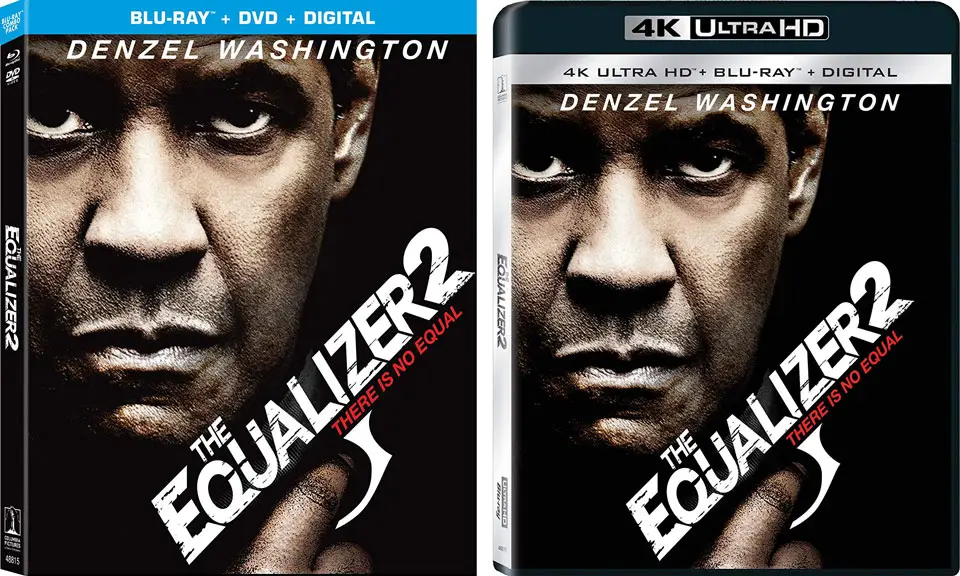 What did you think? Was the second 'Equalizer' film as good as the first? Well, if you weren't able to catch The Equalizer 2 in theaters last summer the movie will be released to Digital, Blu-ray, 4k Blu-ray and On Demand. The film is expected to be available in Digital SD/HD/UHD (where available) on Nov. 13, followed by disc formats and rental options on Dec. 11.
The Blu-ray disc presents The Equalizer 2 in traditional 1080p while the 4k Blu-ray improves the resolution by 4-times (when considering both horizontal and vertical lines). And, the Ultra HD Blu-ray includes High Dynamic Range color with HDR. For audio, the Blu-ray features a DTS-HD Master Audio 7.1 soundtrack. The 4k Blu-ray upgrades audio to Dolby Atmos.
Bonus material includes "Retribution Mode" with Denzel Washington and Director Antoine Fuqua, the featurette "Denzel as McCall: Round Two", The Equalizer 2 Pop Up Trivia Track, 11 deleted & extended scenes (hell yeah!), and four more featurettes (see details below).
The Equalizer 2 was directed by Antoine Fuqua (The Equalizer, Training Day) and stars Denzel Washington once again as retired Marine and former DIA operative Robert McCall. Pedro Pascal, Ashton Sanders and Bill Pullman also star in the film that was written by Richard Wenk based on the original television series.
On Blu-ray, The Equalizer 2 is list-priced $34.99 and on Ultra HD Blu-ray $45.99. The combo editions from Sony Pictures are available to pre-order from Amazon for $22.99 and $29.99, respectively.
Bonus Features
"Retribution Mode" with Denzel Washington and Director Antoine Fuqua
"Denzel as McCall: Round Two"
The Equalizer 2 Pop Up Trivia Track
Featurettes:

"Seconds Till Death: Action Breakdown"
"Through Antoine's Lens: The Cast"
Two NBA Promos

11 Deleted & Extended Scenes
and more