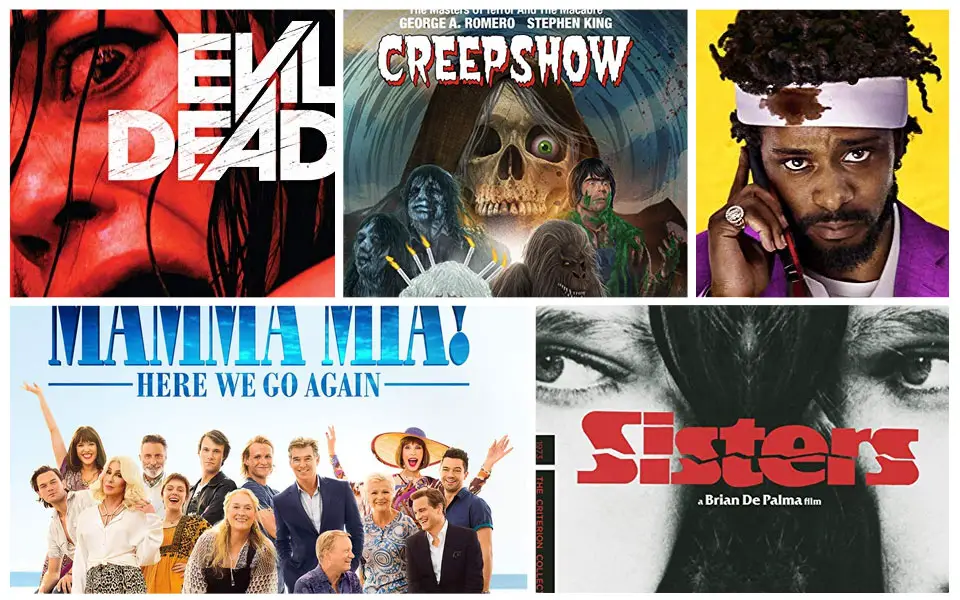 On Blu-ray and 4k Blu-ray this week Universal's musical comedy Mamma Mia! Here We Go Again releases to Blu-ray and Ultra HD Blu-ray in combo editions with an extra disc, digital copy (via Movies Anywhere), and plenty of bonus features like deleted and extended scenes, enhanced sing-alongs, and production featurettes.
On 4k Blu-ray, you can pick up Twilight (2008) — a new edition with 4k Blu-ray, Blu-ray, and digital copy of the Extended Edition (digital only) that celebrates the 10th anniversary of the film's theatrical release. The 4k Blu-ray presents Twilight in 4k with HDR and an upgraded Dolby Atmos soundtrack that's backed by Dolby TrueHD.
And, get ready for Halloween! From the producers of the original classic Evil Dead (2013) is releasing to a 2-disc edition with both the unrated and theatrical version of the film. Creepshow (1982) from director George A. Romero and writer Stephen King hits stores in a special Collector's Edition with plenty of new bonus content and upgraded 1080p print from a new 4k transfer. Also from Stephen King, Maximum Overdrive (1986) is available in a Collector's Series from Lionsgate/Vestron Video.
Those are just some highlights! Here are more Blu-ray releases this week.
New on Blu-ray, Oct. 23, 2018
Movies & TV Series
Mamma Mia! Here We Go Again (2018) [Blu-ray, 4k Blu-ray]
Sorry To Bother You (2018)
The Scorpion King: Book of Souls (2018)
I Think We're Alone Now (2018)
Patient Zero (I) (2018)
I Am Vengeance (2018)
Outlander: Season 3 Ornament Edition
Rescue Me – The Complete Series
Celebrating Mickey
Butterfly Kisses (II) (2017)
3 Dead Trick or Treaters (2016)
Evil Dead: Unrated (2013)
Twilight (2008) [4k Blu-ray]
Prehysteria! (1993)
Spontaneous Combustion (1990)
I Bought a Vampire Motorcycle (1990)
The Unnamable (1988)
Night of the Demons (1988)
Distant Voices, Still Lives (1988)
Maximum Overdrive (1986)
Creepshow (1982) – Collector's Edition
Cross of Iron (1977)
Lady Ice (1973)
Sisters (1972) – Criterion Collection
How the Grinch Stole Christmas! (1966) – Ultimate Edition
Anime
Made In Abyss
Lust-Struck Trilogy
Concrete Revolutio: The Complete Series
Accel World: Infinite Burst
Collections
Mamma Mia! 2-Movie Collection
Scorpion King: 5-Movie Collection
Age of Consent, Cactus Flower – Double Feature
Nightwing, Shadow of the Hawk
Re-Releases
Night of the Living Dead (1968)
The Twilight Saga: Breaking Dawn – Part 2 (2012) – Extended Edition
The Twilight Saga: Breaking Dawn – Part 1 (2011) – Extended Edition
The Twilight Saga: Eclipse (2010) – Extended Edition
The Twilight Saga: New Moon (2009) – Extended Edition
In case you missed it, here are last week's new Blu-ray releases.