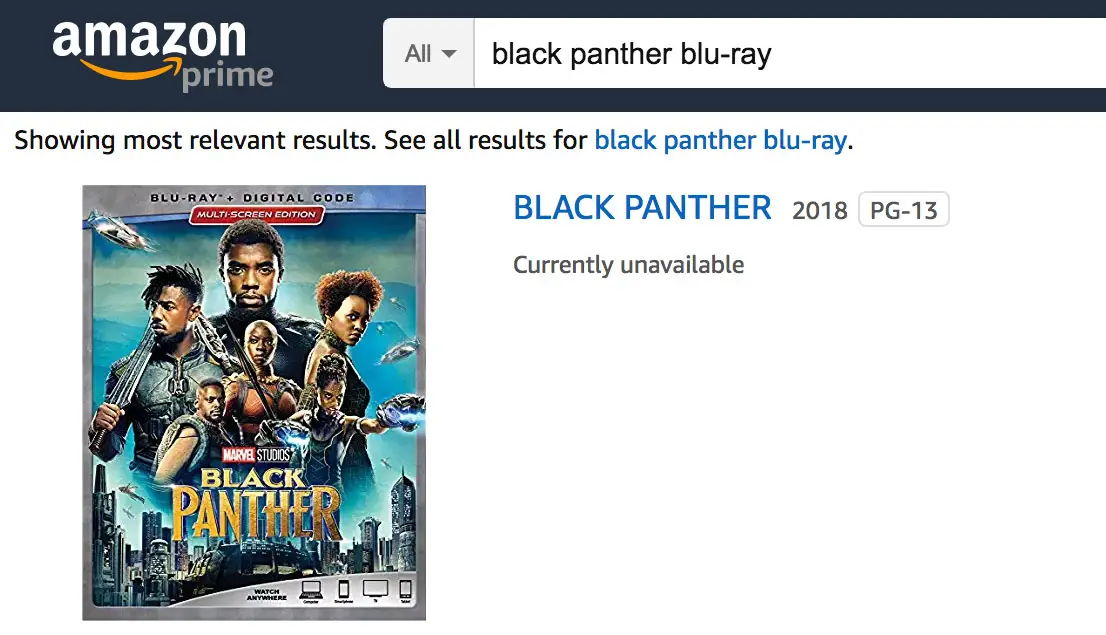 As with many other Disney releases like Star Wars: The Last Jedi and Rogue One: A Star Wars Story Amazon has listed Black Panther on Blu-ray, Ultra HD Blu-ray and DVD as unavailable during the entire pre-order period which began, at least from other retailers like Best Buy and Target, back in February. [Update: Black Panther is now in stock on Amazon. See below for pricing and availability.]
Black Panther was, however, released last week to digital formats (here's a guide to where to buy it) and Amazon was right there with both a theatrical version and "Bonus Content" edition in Digital HD (the Standard Definition (SD) format of Black Panther won't be available from any service until May 15).
Like Star Wars: The Last Jedi though, you can expect to see the disc editions of 'The Last Jedi' pop up on Amazon.com at either midnight Eastern or Pacific Time.
As far as pricing, we're guessing Amazon will have the 2-disc Blu-ray and 4k Blu-ray editions priced $22.99 and $27.99, respectively, while the DVD might be sold for $17.99 if pricing competitively with Target.
Also Read: Black Panther Exclusive Blu-ray & 4k Blu-ray Editions Detailed
[amazon_link asins='B079F9D91P,B079F9D91N,B079FLYB41′ template='ProductGrid' store='API-user-hdr' marketplace='US' link_id='12c5da93-1693-11e8-bd4a-21c673739511′]